Your Name:
Ali
Age:
24
How did you find us?:
Name:
Azriel Thompson
Nickname/Alias:
Az
DOB:
Nov. 1st, 1968
Gender:
Female
Job:
Literature Professor
Animal:
Wolf
Power Level:
Alpha
Mindset:
Dominant
Rank:
Wolf Leader
Human Appearance: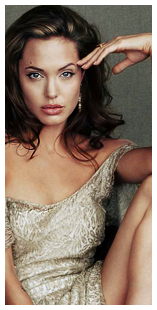 Face Claim:
Angelina Jolie
Animal Appearance(s)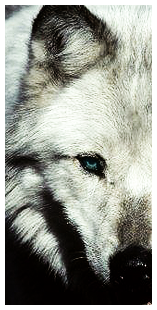 Azriel's wolf is large and light in color. There are dark tufts of fur around her ears, muzzle, and paws but other than that she is completely white. Her bright blue eyes stay with her even in wolf form. Her second, man/beast form is similar to her true wolf form, even with the few dark patches of fur.
Strengths:
-Intelligent
-Skilled at Hand to Hand Combat
Weaknesses:
-Addictive Personality
-Arrogance
Personality:
Azriel is rather independent and headstrong, refusing to let just anyone to get in her way. She is a rather raw individual who cannot help but speak what she feels, determined not to become a shy or soft spoken woman. Because of this Azriel has allowed herself to act on some of her feral ways which can be profitable at times. One thing Azriel can't seem to do away with is her enjoyment of battle and the bestial urges it unleashes since she feels it shows exactly what she is, an animal hiding under flesh. Had Azriel been born ages earlier, she would have been right at home taking part in some of the great wars of time, giving in to her animal-like blood lust and loyalty to whatever ideal or person she chose. A loyal fighter and warrior at heart, Azriel is fearless to the point where it almost bleeds into recklessness.
Though ready to bear fangs when necessary, Azriel is far from being mindless. The wolf in a Literature Professor's clothing, is rather intelligent. This allows her to be cunning as well as charismatic when need be, ready to plot out what needs to be done or charm her way to get there. If her friends, or those she holds dear, are in turmoil, she will go to almost any length to protect them even if it does mean her life. Perhaps that why some consider her reckless, all to willing to defend those close to her even if it means death.
But a hard life isn't without its consequences. With many different thoughts and worries weighing down Azriel? shoulders, its alcohol that often helps relieve most of the stress an, at times, pain. Though her quick healing often stops her from being intoxicated like a human, in the wolfess mind she still needs it to function and to numb herself, refusing to wallow in the ghosts of her past or her own possible sadness. In order to stay strong in these times she uses alcohol snip away at the emotions that could risk dragging her down.
Likes:
-Literature
-Expensive Wine
-Picnics
-Men
-Aggression
-Nature
-Women
-Rain
-Knives
Dislikes:
-Illiteracy
-Teenagers
-Cheap Alcohol
-Bigots
-Being Ignored
-Lies/Liars
-Authority (other than her own)
History:
Azriel was born to a prostitute in one of the harsher areas of London , followed minutes later by her twin, David. An of course unwanted pair, their mother thrust the children upon their father and left to continue her sinful life, not caring at all about the infants. Of course their father, a factory worker, wasn't about to turn away his only two children. Though it was often rocky, Azriel was raised in a household without a female figure, or anything resembling such. Still somehow she managed to grow into a compassionate young adult, although inheriting her father's stubborn natures. But, as always, her stable life was obliterated when her father was robbed and murdered on his way home from work. Still rather young, Azriel, along with her brother, were thrust into harsh, ice cold reality, no longer sheltered by a protective father. It only took a year after his death before Azriel, and her twin, parted ways.
It was with the homeless teenagers of New Orleans that Azriel found solace, though many were there by choice and often had wealthy parents to fall back on if anything serious were to ever happen. Still the young girl rather enjoyed the minimalistic lifestyle they seemed to promote, as if they were going back into the wild. A year or two later she decided to be brave and backpacked across the United States, hopping for a life of adventure. Instead the teenager was mauled and nearly killed by some type of beast. One would think she would have learned that peace never lasts.
Once she was patched up she had little knowledge of the fact that she was a zoanthrope, until the first full moon when she assumed she was dying. No pain could compare to the first shift where she soon realize what creature she'd become. Once she came to terms with being a werewolf she of course kept such a thing to herself, since who would believe her if she were to tell them?
Over the years as she moved into her twenties, Azriel finally matured and put herself through school, realizing her calling was in literature. It was difficult juggling her zoanthropy and social life but Azriel managed and even moved to a city called Killamarsh in hopes of reinventing herself. which she managed to do....