Location: Coast
Timing: Break of dawn
Conditions: Early autumn, unexpectedly cool with a storm blowing in
Situation: Thread has been falling all spring and summer, generally in predictable patterns. Partway through today's Fall, an autumn storm will blow in off the coast. For the first time since the start of the 5th Pass, Thread is falling in unpredictable and particularly hazardous conditions. There are unexpected updrafts, sending the filaments into unpredictable tangles and blowing them off-course. It will be harder to control flames as well, as the drafts blow the phosphorous gases off track.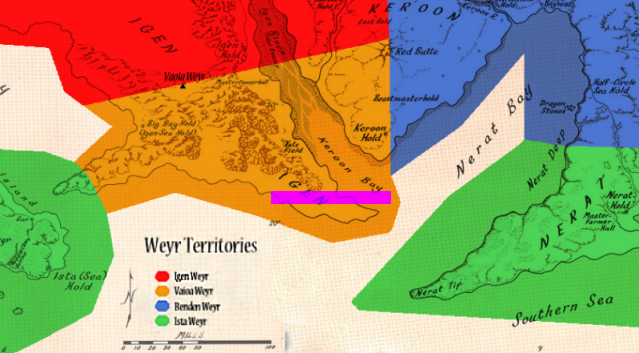 The path of threadfall is the violet-colored strip. It will begin in the east and move westward across the peninsula, finishing once it travels back over the ocean.
Threadfall Injuries:

Tsinga: When the storm blows in off the ocean and the winds get severe, your dragon's flame is blown off-course. He swerves to avoid it, but not fast enough. You miss the flame, but the superheated air is still damaging. Expect some light facial burning-- hope you remembered to wear your goggles!

Eldrith: You may be able to breathe fire, but that doesn't make you immune to it! When your flame gets unexpectedly blown off-course and you swerve to avoid it, you take the brunt of the blow. Your hindquarters and tail get lightly burned.

L'ren: Always a Weyrlingmaster at heart, aren't you? When one of the newest Weyrling additions to your wings doesn't notice the Thread descending upon them, and your dragon darts forward to flame it, a filament of Thread you didn't notice lands right on your shoulder. Luckily, your dragon is fast-thinking and gets you between quickly. However, although the score is shallow, it's nevertheless very painful.

Torenith: You'd never disobey a direct order from your rider, so when he tells you to break formation and flame a Thread one of his weyrlings didn't see, you do so without being asked. However, jumping unexpectedly out of formation when the winds are so unpredictable wasn't the best idea. Your wing gets wrenched. You will be able to continue flying, but it will need to be looked at in the infirmary, and you will probably be sore for the next sevenday or so.

D'ras: Flying Thread in a storm is never a good idea. The lowered visibility and unpredictable wind gusts do't mix well with Thread and fire. But once the storm blows in off the coast, there's not much you can do. In fact, you fight very well. Near the end of fall, when there is not much left to go, however, things take a turn for the worse. An unexpected gale rips through the air and sends a near filament of thread spinning your way, tangling in on itself. There is no time to react and it strikes you, from the right, full in the face. Your dragon takes you between, but a score to the face is never easy to handle. If you remembered to wear your goggles and if you go straight to the healers, the healers might be able to save your right eye. Your nose may forever have a chunk missing, and the scars on your cheek may fade but will never vanish.

Orillanth: Although this fall is shorter than most because it is so low on the peninsula, you'll probably get tired partway through. Because the storm has blown in, however, it may seem best to keep struggling on because the weyr needs every dragon who can fly. When your rider is scored, you take him between, and finally leave the fight. Still, by staying in the fight so long, you will be bone-weary and experience severe muscle exhaustion for the next few days-- sore all over, difficulty flying, etc.

Muriel: Because this fall is shorter than usual, your dragon will have no trouble lasting the whole time. But the storm will definitely complicate things. It's not really his fault, but one of the new Weyrlings will lose control of his flame when the powerful gusts of wind hit. Your dragon will save you from the worst of the flame, but both your arms will have moderate burns. Your flying leathers will save your body, although your torso may have some light burns as well.

Arilieth: You're a strong flyer, and so the Fall doesn't give you any trouble, even when the storm blows in. Unfortunately, the same can't be said of some of the newer additions to your Wing. You see the dragon's out-of-control flame with enough time to protect your rider, but unfortunately, you get hit with the brunt of it. You will have deep, severe burns on your chest, neck, and one wing. If you go straight to the healers, they may be able to help you significantly, but melted hide needs to be treated quickly to prevent permanent scarring and damage.

Al'dai: Congratulations! You got lucky! No injuries for you this time around :)

W'ren: The fall is routine until the storm blows in from off the coast. Even so, you have enough experience to avoid any major damage. At one point, the wind shifts unexpectedly, and a clump of thread your dragon has just seared blows back on you. You won't be seriously injured, but a facebul of hot char and ash can hurt! Maybe you'll want to get that checked out after the fall.

T'ech: Congratulations! You got lucky! No injuries for you this time around :)

Kilith: Although you're a strong flyer, once the strong gusts of the storm blow in, it is a little hard to stay on course. You accidentally swerve right into a clump of thread. Even though you between quickly and kill it all, wing membranes are very fragile, and a large portion of your mainsail is gone. You'd better get home and land before the tissue is further damaged.

D'nes: The unexpected updrafts and gusts are making it harder than it should be for your dragon to keep in formation! When a clump of thread suddenly shifts direction and falls toward you, he has to swerve to flame it completely. An unexpected draft of air buffets him while he is trying to hover, and he is thrown off course. You are unexpectedly jerked to one side and crack two of your ribs when he tries to right himself.

Andreya: This is not your first fall, but since you joined the wings, you haven't yet been in a fall this unpredictable and dangerous. Once the storm hits, the Thread starts clumping together and falling in strange patterns. While your dragon is flaming one clump, another falls and lands on your arm. Your dragon is able to get you between before any serious damage is done, but you receive your first threadscore and all the pain that goes with it.

Eriardith: In your panic to get your rider between safely, you lose control of your flame and the wind buffets it right back into your face. You get away quickly, but you're left with surface burns all over your face and neck.

C'amryn: A dangerous Fall like this isn't too hard for you to deal with. In fact, you don't receive any injuries in fall. However, when you run out of firestone and get a new sack, the Weyrling did not tie it properly and so the ends open just as you catch it. No real harm is done, but some of the stone inside falls out and while pieces of rock are flying at you, a particularly sharp one cuts you on the neck. It is only a surface injury and easily delt with, but it may give you cause to yell at the Weyrlings or their masters later.

Verandrinith: You're a strong flyer and this is a short fall. Even once the storm has blown in, you have no problem staying in formation and keeping relative control of your flame. The same cannot be said of some of the smaller and younger dragons. A light and inexperienced green is blown wildly off course and you rush out of formation to save her. You are able to right her, but you have to strain your wings a bit to help get her back on course. You'll be sore for the next few days, and your flying may be limited.

Rayune: You're an experienced rider, so you do very well most of the Fall. Near the end, once the storm blows in, things begin to go awry. You've never had a problem with seeing the Thread, but with unpredictable gusts, a patch out of your line of vision blows unexpectedly your way. Unfortunately for you, because it came at you from behind, you are not able to see it at all. Also unfortunately for you, it's been falling through the atmosphere at a speed approaching terminal velocity. It's a good thing you're wearing your helmet; the Thread doesn't have enough organic matter to start eating you, although you may receive some shallow scores on the back of your neck before your dragon can take you between. However, having something as large and heavy and fast-moving as a clump of thread fall straight onto your head will give you a serious concussion. You'll immediately black out, and it is more by luck than anything else that your dragon takes you to the infirmary. Some of the golds will be able to calm him there, but until you wake up, he may be extremely nervous and upset. Once you regain consciousness, you'll have a hard time remembering the events of the Fall, and you'll have a much harder time moving and walking, with frequent headaches and mood swings. It may take up to a month before you feel back to normal, and physical activity (including exercise, wing training) will be severely limited. You will be highly vulnerable to future brain injuries as well.

Avath: You manage to make it through the fall even once the storm blows in. The heavier winds give you a bit of trouble but you hold your own. However, your flame is very erratic, because the wind keeps blowing the flammable gases off course. Near the end of fall, a particularly large clump of thread descending toward you is blown into the biggest, tangled net you've ever seen due to the erratic winds. You flame it with the last of your gases and turn to get more stone from your rider, but at that exact moment, an unexpected gale rips through the high altitude. You are knocked off course and the net of thread, only half-killed and still flaming, is knocked into you. Though your rider is high enough on your body that he is uninjured, you will suffer massive threadscore and burning from your neck down into your wing. The sail may be seriously bamaged, and your shoulder joint will be dislocated from being blown off course so violently. The infirmary can heal tissue and joints, but it will take time. You may have difficulty flying for a while, and maybe even grounded for a time until your joint is stronger. Expect persistant pain in the shoulder and you will have to do strengthening exercises, even after your hide and wing tissue is healed.