Title: [filled]zombie/vampire banner
Description: dianna agron&chris pine
silk tea. - January 6, 2012 06:10 AM (GMT)
MAIN TEXT: Tasting Ivory
SUB-TEXT: seducing the demon
PEN NAME: silk tea.
IMAGES: dianna agron, preferably when she's bloodied up in the hunters. chris pine, anything where he looks 'tough' and bloodied.
OTHER SITE WHERE REQUEST IS POSTED:In/a
ANYTHING ELSE:please make the size 500x200. this is a zombie-vampire type story, and they are both fighting together to survive. i'd like them bloodied up if possible.
Hands All Over - January 9, 2012 04:24 PM (GMT)
I"ll give this a shot if you don't mind!
Hands All Over - January 9, 2012 07:50 PM (GMT)
Here you go! I hope you like it.. I made it black and white because the skin tones wouldn't match up, and I bloodied and bruised them up a bit myself because there were no HQ images of Dianna bloodied from the movie.. I hope you like it, please let me know if you want anything changed!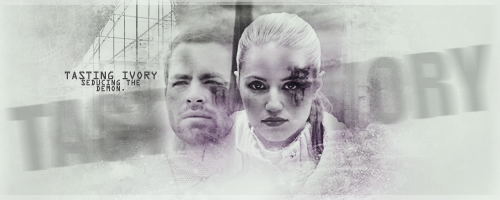 CODE
[IMG]http://i1180.photobucket.com/albums/x405/jude-/silktea.png[/IMG]
SD. - January 9, 2012 08:15 PM (GMT)
This request has been filled by an artist and is awaiting your collection. Please post letting us know that you have received it and whether it satisfies you or not. If not, it will be deemed as complete within one week. Remember to credit the artist and re-host when using.
silk tea. - January 10, 2012 02:07 AM (GMT)
I love it! Thank oyu so much