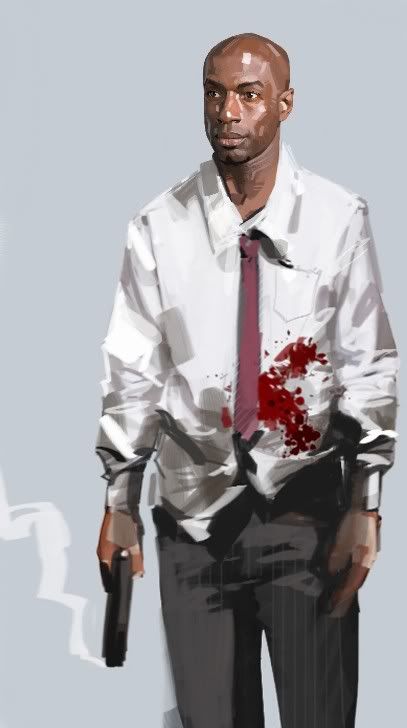 CHARLES FRANKLYN DOMAN
"... well, that's... interesting."
Nicknames: None yet
Age: 32
Gender: Male
Species: Human
Charles is a bald African American male, clad in a bloodstained white buttondown shirt, red tie, and striped black dress pants.
------------------------------------------
Personality
Despite being thrown for a loop by his world's new post-apocalyptic state, Charles resolves to take all incoming threats and challenges in stride, struggling to control the fear that lurks beneath the surface but is refused a foothold. He remains pleasant, level-headed, and accepting given the circumstances, resolving to be a better example of humanity, and a flat out better man, than those he's left behind.
------------------------------------------
Father: Franklyn Doman
Mother: Cheril Doman
Siblings: Donald Doman
Background and History
Charles was born and raised in Halifax, the son of Senator Franklyn Doman (the first and thus far only African American appointed to the role). Inheriting his father's political ambitions, he at the same time departed from his hometown for Calgary and joined the Liberal party, enjoying a short yet successful run as an alderman before being elected to the Calgary-Buffalo riding as a member of the legislative assembly of Alberta.
Just before gearing up for a re-election campaign in the district, reports began circulating about a pernicious disease that was sweeping the country. He stood with his fellow MLAs and the premier, delivering reassuring messages to the public while holding reports that saw no end and no cure in sight. Once reports started cropping up in Alberta, he received a surprise visit from his father, who invited him into his limo for a lunch. The limo drive turned out to be a very long drive into the Rockies, as the two of them were whisked away to a secure location below Fiddle Peak.
For weeks, months, VIPs officiated from the safety of the bunkers as the world died around them, powerless to stop what was happening. Term limits were suspended in the hope that society could be quickly restored. Years slogged by, marked by boredom and rote legislation, approving emergency road construction, arguing over budgetary concerns, and the like. Things went along smoothly until Charles, through trial and error, bypassed the security on what turned out to be a Vanguard database, and discovered the contact he thought he had with his constituents and the world proper were largely false, his online connections replicated by an advanced computer program, extrapolating his history and the personalities of his friends via chat logs. Finding no allies among the quarantined, he disabled a guard under cover of darkness, and slipped out, only tripping an alarm upon completion of his escape.
His only plan is to leave the country by sea, reaching Russia or Japan or whatever modern civilized nation had survived, and telling the world of the Vanguard and its crimes...
Likes:
Gun collecting (you'd be surprised how many abandoned gun stores and police precints there are around)
The Internet (gah)
Politics (you kinda have to in his line of work)
Dislikes:
Explosions
The Unexpected
2/3 of his family
------------------------------------------