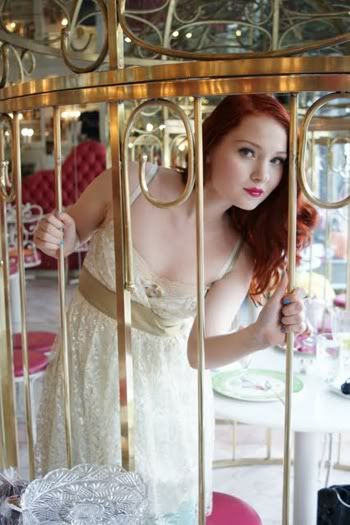 SIRENA VIXEN MALONE
"Sex is nature's way of saying "Great job! You've learned to get along!"
Nicknames: Vixxy
Age: 42, appearing 28
Gender: Female
Species: Werewolf
Human appearance
Height: 5'6
Weight/build: 130lbs./Medium
Hair: Copper red
Eyes: Light gray to light green
Clothing: Alternative fashion, trendy
General description: Sirena has has an hourglass figure and prides herself on her shapely, well-toned legs. Now pay attention, she's a 34 C, she is proud of this and hopes to one day become a D. Sirena's hair is the color of brushed copper and is cut in a medium length bob that frames her elfin face. The color of her eyes ranges from a cool grey like thunderclouds or a soft green like lichen on an aging tree- it really depends on what she wears. Her skin is fair and she takes good care of it. In love with the dapple of light freckles on her cheeks, nose, and scatter in places around her body, she doesn't wear make-up that would cover them up, even to cover the crecsent-shaped scar near her right temple that she received in a careless run through the forest.

Other distinguishing features are a set of tattoos: on her upper spine, between her shoulderblades, is a tattoo of a tribal dragonfly, the body of which extends to the middle back; on her left buttock is a moon tattoo-she likes looking at her tush so she thought it was a good place. She has two piercings in each lobe of her ear and a belly-button piercing.
▪ ▪ ▪ ▪ ▪ ▪ ▪ ▪ ▪ ▪ ▪ ▪ ▪ ▪ ▪ ▪ ▪ ▪ ▪ ▪ ▪ ▪ ▪ ▪ ▪ ▪ ▪ ▪ ▪ ▪ ▪ ▪ ▪ ▪ ▪ ▪ ▪ ▪ ▪ ▪ ▪
Phase: Coming Soon...
Calling: Progenitor
Pack: Kahlite
Rank: Kappa
Gift: Leeching
Gift Description: Coming Soon...
Expertise/strong abilities: Coming Soon...
Weaknesses/liabilities: Coming Soon...
Story behind character's abilities: Coming Soon...
Wolf Forms
Size:
Markings: Sirena's outercoat makes her appear red to reddish brown as a basic color. Near her withers the fir is tipped in black and gives her a black 'collar'. The fur along her spine is similarly darkly colored and the fur at the tip of her tail is black. Her face from her eyes down her muzzle and all along her underbelly has cream colored fur. The fur inside her ears is also cream. Sirena's coat is full and all of her claws are white. She could probably pass for domestic mutt to an untrained eye.




Power form: Coming Soon...
▪ ▪ ▪ ▪ ▪ ▪ ▪ ▪ ▪ ▪ ▪ ▪ ▪ ▪ ▪ ▪ ▪ ▪ ▪ ▪ ▪ ▪ ▪ ▪ ▪ ▪ ▪ ▪ ▪ ▪ ▪ ▪ ▪ ▪ ▪ ▪ ▪ ▪ ▪ ▪ ▪
Personality
Likes: Alcohol, sex, babies, children, science, gossip
Dislikes:Ghosts, conservative views, abortion, 'bad attitudes', seals
Defining characteristics:
Sirena is a drinker. Girly drinks are classified as "desserts". Things that make men's chest hair curl are classified as "refreshments". Non-alcoholic drinks are "not booze" or 'fizz', for soda.

She has an almost child like absence of fear in the sense that things she probably shouldn't do, she does simply because she has not done them before or she has not felt the consequences of her actions. She learns quick though when it comes to punishment. However, psychological punishment is stronger than physical. She has dated a dominatrix before.

She is a self-proclaimed 'try'-sexual but will still admit that a 'nice boy' is her favorite pick-me-up.
▪ ▪ ▪ ▪ ▪ ▪ ▪ ▪ ▪ ▪ ▪ ▪ ▪ ▪ ▪ ▪ ▪ ▪ ▪ ▪ ▪ ▪ ▪ ▪ ▪ ▪ ▪ ▪ ▪ ▪ ▪ ▪ ▪ ▪ ▪ ▪ ▪ ▪ ▪ ▪ ▪
Father: Unknown (deceased)
Mother: Unknown (deceased), Lillith (adoptive)
Siblings: Jonas Malone (brother, whereabouts unknown)
Other
Significant Other: None
Friends: Quinn Simon
Students:
Mentor:
Acquaintances:
Enemies:
Sirena as turned into a werewolf when she was three. Her parents, devout Christians, had taken her to a lakeside for a baptism ceremony. In attendance was a priest, a family friend, her parents and herself. Her brother, Jonas, was in the hospital for an ear infection and the last she saw of him, a memory lost to age, was her grandmother driving him to the clinic. But as the ceremony was underway, the congregation of five came under attack from a wolf of epic size. The pure black beast was starved and partially injured. No one knew then what to make of the situation but in the end the wolf attacked them. Lilorie, Sirena's mother, ran with her towards the car, ignoring the screams of her husband Quinlan behind her, a mother's instinct to protect her child stronger than that of a wife, friend, or congregant. Yet, just as the car was in view, she could hear the padded thrumming of large wolf paws. Surely, in her last moments she knew she would die, so perhaps that is why she stopped running and shouted, "Father, who art in Heaven, hallowed be they name. Thy kingdom come, thy will be done on Earth, as it is in Heaven... Save my child, Lord! Save us!"

Lillith commented that while she had little knowledge or general sympathy for the humans of any religion, she explained that it was the woman's conviction and devotion that led her to save Sirena's life and instead of eating her, turning her. Over the years, Lillith tried to raise Sirena to be pragmatic, resourceful, and as self-sufficient as she was but Sirena was naturally playful, mischievous and incorrigible.

Lillith had committed a terrible sin against her former pack and lived the life of a reluctant loner. A topic that she refused to talk about even today. For many years, she kept Sirena away from humans and even other werewolves. But eventually word got around that she had a child with her, a human turned werewolf, and although young, it was determined by her former packmates that she was unfit to bring forth a new generation. Sirena needed to be saved.

By that time, Sirena was only a pre-pubescent and hardly one to talk about what people should and should not do, but she argued fiercely against being taking away from the only mother she remembered. However, Lillith made the choice easy by days later completely turning on Sirena. She was not badly hurt during the ordeal, but from that moment she could never look at Lillith without fear and pangs of resentment. Lillith never looked at her again, period. It was as if, they were total strangers from that point on. After that, though, Lillith's health severely diminished but even if she looked physically feeble, she was given a wide berth. She was labeled as a Lunatic and unstable.

It took some time but Sirena integrated well into her new family- a family larger than she had never known living under Lillith's oppressive parentage. She blossomed into a social butterfly and enjoyed being everyone's friend and the flirt. But as she go older and the infrequent glimpses of Lillith skulking in the shadows, observing her from a distance, tugged at her heart, she realized she wanted to find her real family and get some closure of who she really was. She start with the name "Malone", the only name she remembered, dismayed to find it to be fairly common. Once outside of her pack's sphere of influence, she lost focus of her goal quickly. Partying, drinking, and exhibiting the same outgoing-ness that made her popular in her clan led her to meet many interesting people that had nothing to do with her past, like Quinn Simon. She became good friends with the eccentric woman and began to wonder if she would truly even want to return to her secretive life as a werewolf. Maybe she could return to a life as a human. As she deeply contemplated cutting all ties with her were-wolf past, the Snap occurred.

In the chaos surrounding that time, Sirena found the living ghost that was Lillith pursuing her doggedly, emerging from the fringe to suddenly confront her face to face. Lillith wanted her child back and now was a perfect time to seize upon opportunity and make her obsession real. For years after that, Sirena found herself in game of cat and mouse, her chasing her past made manifest in Lillith and Lillith chasing the only acceptance and love she truly cared for. So perhaps it was ill-fate or irony that lead the end of their relationship to the business end of a shotgun. Lillith's last action as a living being was to stand between the gun and Sirena. Two mothers recieved death in the back for the sake of a 'little' girl. After that, Sirena vowed to never live a life were she would have to run or be pursued again.
She joined the Kahlite Pack shortly after this event.
▪ ▪ ▪ ▪ ▪ ▪ ▪ ▪ ▪ ▪ ▪ ▪ ▪ ▪ ▪ ▪ ▪ ▪ ▪ ▪ ▪ ▪ ▪ ▪ ▪ ▪ ▪ ▪ ▪ ▪ ▪ ▪ ▪ ▪ ▪ ▪ ▪ ▪ ▪ ▪ ▪
▪ ▪ ▪ ▪ ▪ ▪ ▪ ▪ ▪ ▪ ▪ ▪ ▪ ▪ ▪ ▪ ▪ ▪ ▪ ▪ ▪ ▪ ▪ ▪ ▪ ▪ ▪ ▪ ▪ ▪ ▪ ▪ ▪ ▪ ▪ ▪ ▪ ▪ ▪ ▪ ▪
Player: Reiks
Contacts: email: amt at myself dot com or j4deninj44 on AIM