AMELIA PENDLETON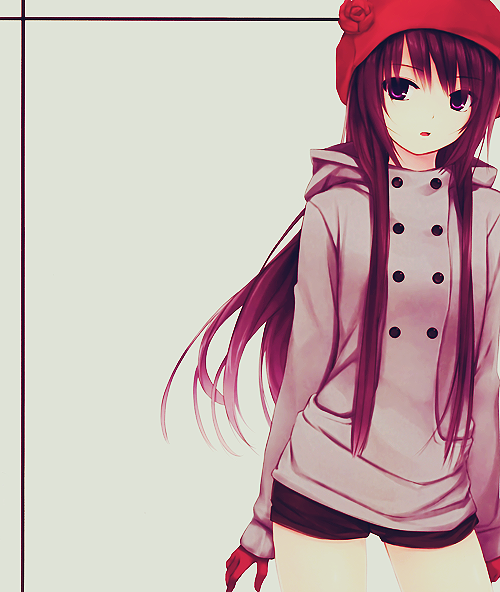 The Basics
Name:
Amelia Pendleton.
Name Meaning:
Industrious; striving.
Alias:
Mel.
Gender:
Female.
Blood Type:
B.
Age:
22.
Birthday:
Fall 23.
Job:
Animal Caretaker at
Little Whiskers.
Residency:
Bluebird Gateway #078.
Bank Account:
Amelia Pendleton's Account.
Face Claim:
Unknown.
Physical
Hair:
Amelia's hair falls all the way to her waist; unless, of course, she has it pulled back in a loose ponytail. It's mostly straight, but on humid days, her hair shows some wave. It's a unique auburn color, though Amelia would argue that it's just plain brown. But if seen in the sunlight, there are tints of a beautiful, red undertone to it. She very clearly makes it a point to take excellent care of her hair; it is very sleek and smooth despite its length. Occasionally, she can be seen wearing a red hat with a rose on the side.
Eyes:
Her eye color is a very deep chocolate brown. Her eyes are only slightly almond-shaped, and she has naturally thin eyebrows arcing above them. Amelia's eye lashes are naturally very dark, so she only occasionally wears mascara or eyeliner. If she's feeling particularly bubbly, she can be seen wearing various eyeshadow colors as well.
Face:
Amelia has very fair skin, which emphasizes her dark eye color. Her face is slightly rounded, and her chin comes to a gentle point. Her lips are a lightly tinted pink color, and look soft to the touch. When Amelia is around people, her mouth can usually be found curled into a warm smile.
Body:
Amelia stands at about 5'7". She has a smaller frame than what is considered "normal." Her limbs are quite svelte, but also fit from the frequent walks she takes. Despite her smallness, she is still quite curvy; her breasts are the size of grapefruits, and she has a well-defined hourglass waist line.
Scent:
Even if you were to just pass Amelia on the street, you would get a prominent (but not overbearing) whiff of flowers. She bathes daily, and always uses a floral perfume before she leaves the house.
Emotional
Personality:
Based off of your first impression, one might mistake Amelia for the quiet type. She's the type of girl who doesn't usually speak until spoken to… but after that, you might have a hard time getting her to shut up! She's often over-trusting of people she's just met, and because of this, she tends to make friends quickly wherever she goes. But because she is so trusting of others, this can sometimes lead to her heart getting utterly crushed. Though most might take it as a lesson and learn from it, Amelia continues to put her best foot forward and continue to give people the benefit of the doubt upon meeting them.
Amelia is a very caring person in nature; perhaps too much so. She tends to put other people's needs before her own, even if it's for someone she's just met. It isn't surprising to see her go out of her way to help someone with something. She is very passionate in anything she tries, and because of this, she often excels. She has a studious personality, so if she's determined to learn something, she'll put her mind to it and do it.
In one word, Amelia could be described as mellow. She usually is very calm, and it takes a great deal to anger her. But if you do get her mad at you, you're bound to know. She isn't usually very verbal when she's upset with you, like most people might be. Instead, she clams up and doesn't speak unless absolutely prodded to do so; she will excuse herself to go home to be alone—to write, exercise, paint, play music, or vent in whatever way she sees fit.
Likes:
Nature.
Photography.
Fireworks.
Growing plants.
Playing the piano.
Animals.
Writing.
Dislikes:
Bugs.
Rainy days.
Negativity.
Dancing.
Children.
Spicy foods.
Arrogance.
Strengths:
Artistic ability.
Determined.
Good with plants.
Helpful.
Weaknesses:
Can't swim.
Too trusting.
Terrible handwriting.
Discouraged easily.
Goals:
Amelia's aim is to live a happy and peaceful life. She hopes to succeed in her artistic and writing endeavors, and eventually have her name be known throughout the world. She wants to be noticed for
her
abilities alone, and not because of her family or siblings noted accomplishments.
Fears:
Drowning.
Failure.
Spiders.
Rejection.
Being alone.
History
Childhood:
Amelia had a happy childhood, and she fondly recalls memories from then. She grew up with two other siblings, a sister and a brother; and she was the youngest of them all. She got along with her siblings and her father, aside from the usual family tiffs that most families learn to endure. As for their mother, she died when Amelia was too young to recall. The idea saddens her, of course, but how can you miss someone that you never knew? Her father had always worked as a scientist, conducting various research companies. She knew very little of what he did, and she never really found it interesting enough to cause her to ask him questions about it.
Adolescence:
At this stage in their lives, Amelia's brother and sister leaned towards a strong academic focus. They excelled in high school, going above and beyond the average student. They each knew what college they wished to attend, had the grades to do so, and already had their dream career in mind. Amelia excelled in school as well, but unlike her siblings, she cared little for going the extra mile with classes she didn't care about. Instead, she found joy and passion in the arts; whether it be music, painting, writing, or botany, Amelia excelled. Her father and her siblings began to grow away from Amelia; their similar interests had waned over the years. Her father and her frequently had heated discussions about her career; her future; her life… and that was when she began to realize that in order to flourish in her interests, she would have to go and start her own life; a life
away
from her stifling family.
Adulthood:
As she grew older, she took various errands and jobs for people in town. She got a job cashiering at the local supermarket. Amelia saved most of what she got from these jobs, with the exception of the occasional purchase of art supplies and similar objects. For years she researched and researched places that she could move to—then she finally found the perfect place for her endeavors. She told her family of her plans, and about two weeks later, they all went to say goodbye to Amelia on the docks before she boarded the ferry.
Inventory
Money:
10,000g.
Personal:
Her journal and sketchbook, her camera, her ring, and her red hat.
Gifts:
A necklace given to her by her father.
Extra:
She has her backpack full of personal belongings and a suitcase full of clothes, mementos, etc.
Aspects
Friendship:
Amelia is rather easy to befriend—especially if you were to give her a small present, such as a flower, book, etc. She appreciates kind gestures and a warm smile. She's a little bit naïve in nature, but she'll always give someone the chance to get to know her.
Romance:
Amelia's got a bad habit of getting a crush on men that she hardly knows; though, this doesn't mean she dives right into any relationship. She's a bit shy around those that she secretly "likes," so she often waits and sees if she can find any sort of sign that he likes her back.
Sexuality:
Heterosexual.
Martial Status:
Single.
Levels
:
Friendship:
:black – "Get out of my sight!" (Hate)
:gray – "I don't really feel like talking right now…" (Slight Dislike)
:white – "Hello, have we met?" (Neutral)
:purple – "My name's Amelia… nice to meet you."(Acquaintance)
:blue – "You're really interesting! I'm looking forward to getting to know you more." (Friend)
:green – "Would you like to hang out some time soon?" (Good friend)
:yellow – "I really enjoy being around you! I'm glad we met." (Close friend)
:orange – "You know, I feel like I could trust you with anything…" (Best friend)
:pink – "They must have given me the wrong siblings, because you and I are obviously related!" (Practically family)
Romance:
:black – "I don't think I can ever trust anyone again…" (Heartbreak)
:gray – "Please, just go." (Dislike)
:white – "Hello—my name's Amelia." (Neutral)
:purple – "Care to show me around town?" (Friendly)
:blue – "Well, don't you look nice today!" (Attracted)
:green – "We should go get coffee some time… my treat."(Crushing)
:yellow – "Would you care to go on a walk? Y'know, just you and me?"(Smitten)
:orange – "Lately, I can't seem to stop thinking about you…" (Falling in love)
:pink – "I can't imagine life without you… I love you with my whole heart." (Love)
:red – "I'm so glad I get to spend the rest of my life with you…" (Married)
Heart Rates:
None yet.
Avatar:
CODE
[IMG]http://i1155.photobucket.com/albums/p550/KimMobile/AmeliaPendletonAvatar.jpg[/IMG]