Title: Desert Colossus
D - October 8, 2010 06:25 PM (GMT)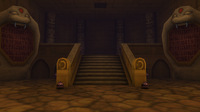 The Spirit Temple and the location within its direct vincinity (the Desert Colossus) are protected from the wrath of the desert winds and cursed sandstorm of the Great Desert by a mysterious, and presumably holy, force that prevents the outside villainous etheral forces from attacking the location at a distance.

The Desert Colossus appears to be the only location in the Gerudo country that plants grow extensively almost like Hyrule, far enough for a small oasis to be found whenever it rains here. Even the rare Hover Plants that require many years and water to grow are found growing here. Leevers are often found burrowed in the ground here, feeding on the underground nutrients, but when disturbed they surface and attack nearby intruders.

The entrance to the Spirit Temple is found here, underneath the massive form of the Goddess of the Sand. The temple can also be accessed from doors into the northern and southern halves of the temple from ontop of each of the formation's massive hands, where the Mirror Shield and Silver Gauntlets were each once kept.

It is rumored that a Great Fairy serving under the Fairy Queen, Venus, lives at a nearby, hidden Fairy Fountain.
D - October 8, 2010 07:15 PM (GMT)
*From the Desert Wastelands*
Ganondorf stepped from the sandstorm, lowering his arm at last. He gazed at the temple. The first time he had been here, he had been using the temple as one of his bases before infiltrating Hyrule. The last time he had been here, he had fought Sartor and that other figure that had taken the Triforce of Power.
Now he had returned again in order free the man who Sarah believed to be the Sage of Spirit from a man who had been stripped of his sage position. What irony! He could very nearly laugh at the situation!
His hand moved to the Gerudo Dirk sheathed at the side of his leg, his gaze moving over the building before them. Darknesses were housed there. He could feel layers of different Darknesses emanating from the temple. Someone else besides Abbadon was there, if he was already there.
"We have no time to waste. If the white-haired man isn't already there, we can start investigating immediately."
He unsheathed Mandrag's Gate from its scabbard. In spite of his words, he didn't move towards the temple, but only continued to gaze at the Spirit Temple's entryway.
Sesshomaru - October 9, 2010 01:50 AM (GMT)
*From the Desert Wasteland*

"White-haired is a bit vague for my tastes," Sehkon said, moving fingers through his hair as he passed by Ganondorf. He looked up at the establishment before him, disappointed that he was not taken by awe immediately. Ancient ruins didn't seem to offer him any interest besides holding treasures within. Gold and jewels just didn't seem to conquer his mind as they had weeks ago. A transition into Sageship had definitely warped his thoughts in more ways than one.

Turning to look at his Gerudo comrade, the Sheikah frowned. "Like you said, we shouldn't waste any time. Stop staring and get moving. Whatever's in there isn't going to wait around for us to get ready." Unsheathing his sword, Sehkon turned quickly and walked towards the temple. He felt an odd feeling in his stomach as he began to recall the statement that Siegfried's possessor had said. Although Gabriel was in control, Sehkon felt that he was now comprehending what the evil Sage had said.

As Sehkon felt his steps become hard and orderly, he realized that the sand beneath his feet had become solid stone. We was before the temple now and for the first time he was able to see the two Gerudo guards standing by the entrance. Expecting them to draw their weapons, the Sage was surprised when they simply looked at him with cautious eyes.

"I was sent by your king to rid you of its inherent darkness," Sehkon said, his eyes moving between the two women.

The guard on the right stepped forward, her glare not ceasing. "We were informed that Reselia would be traveling with you. Without her, we cannot be certain you are the group sent. How would we know that you aren't after the sacred artifacts within?"

The Sage stepped forward slowly, his eyes locked with the responding Gerudo. "Two of my good friends are in there and I won't let you stop me simply because that Reselia woman couldn't keep up. You will let me in or I will cut you down where you stand."

The further guard tightened her grasp on her spear. The other guard, who was closer to Sehkon, rose her hand to halt the other. She grinned slightly, looking past the Sheikah to see his companions in the distance. "We were also informed that you are traveling with one that calls himself Ganondorf. If this turns out to be true, you shall be permitted in. If you cannot provide either Reselia or the one called Ganondorf, you shall not be permitted. Be warned as well: we have our ways of keeping you out."

Sehkon ground his teeth, turning quickly to put his back to the woman. It turned out he would have to wait after all. The Sage could only hope that his companions wouldn't take their time.
Nintendo Mastah - October 9, 2010 10:05 AM (GMT)
*From the wasteland*
Veran stepped into the colossus just to hear Sehkon talk with the guards, and she was just about to destroy them when she heard Ganondorf could help them in. Instead, she just stood next to Sehkon and folded her arms across her chest, waiting.
D - October 11, 2010 02:58 AM (GMT)
At Sehkon's reply to the comment of white hair, Ganondorf tore his eyes away from the deity. He watched the Sheikah walk away as he spoke. He chuckled softly. The sand crunching beneath his feet he followed several steps behind the other two, musing over Sehkon's words and comparing them to the joke he had said at the desert entrance earlier. As he walked he wondered,
"Is he is still jest-"
The warlock paused just beyond his two companion, just noticing they had halted. However, their pause hadn't caught his attention. He looked to the Gerudo when they mentioned his name.
"Is my name enough to let us pass..."
He glanced towards the blade in his hand.
"...or do I need some sort of proof such as my sword?"
He gazed at the guards he might once have considered his people, warily gripping his blade. They could interpret that comment as a threat or question. However they did, though, he preferred to be ready.
Sesshomaru - October 11, 2010 04:30 AM (GMT)
The guard closest to Sehkon warped her smirk into a stern frown. The other guard began to shake, looking to her coworker for the words to fill void left by her speechlessness. The former of the two nodded at the Gerudo, her expression holding back obviously strong opinions that she had. "If His Majesty... wished for you to have the blade, I can only assume your status here is allowed. Your group is free to enter." Both guards stepped away, both confused and upset over the matter. It was not a trivial fact that the king had given Ganondorf his blade.

Sehkon grinned and quickly passed by the guards, entering the temple the moment they stepped away.

*To the Spirit Temple Entry Chamber*
Nintendo Mastah - October 11, 2010 10:20 AM (GMT)
Veran simply walked past the gerudo women, ignoring them. She began to study the temple, to know where the best place to strike would be.
*To the Spirit temple entry chamber*
D - October 12, 2010 06:07 PM (GMT)
So far so good. The Gerudo stepped towards his old base, searching its dark entryway. He paused a moment before entering, gazing back at the two guards. He extended an arm momentarily in the direction of the sandstorm, indicating the path between Grand Coliseum City and the Desert Colossus. He seemed ready to say something, but changed his mind. Instead, the warlock turned and headed into the temple, leaving them with silence.
*To the Spirit Temple~ Ante Chamber*
Bootman - October 29, 2010 04:07 PM (GMT)
*From the city thingy*

A disc of pure black appeared in the desert. Slowly, it rippled. After a few moments four forms rose from it's black depths. The first one stepped forth and looked around the desert. It was hot here...

She knew her skin would not burn in the sun, so she removed her coat and put it in her bag. Afterwards she looked to one of the others to lead the way to the next destination.
D - October 29, 2010 06:36 PM (GMT)
((I know this is a different topic, but I shall make a small version of an explanation.

Abbadon is a man that was once the Sage of Spirits, but was stripped of his position when he turned villainous. He fought his successor, but when he nearly died he made sure his soul would inhabit the body of the sage's descendant.

Abbadon is acting not as a minor NPC or major NPC, but rather as a Dungeon Master NPC, which can hold boss-like stats. I gave boot express permission to make Abbadon a DM NPC for the storyline.))

*From Grand Coliseum City*
Sheik and Reselia appeared from the shadows. Reselia gave a quick sweep about. She tried to take a step forward, but nearly fell. The woman was not at all used to warping. Feeling queasy, she held her abdomen. The Sheikah caught the warrior before she fell. After a couple minutes, Reselia pushed Sheik's arm away and straightened up. [u]"Better..."[/i] she murmured.

The Gerudo warrior gazed out across the colossus to the massive stone structure beyond. "Follow me." she said, walking towards the structure. She still felt a little queasy, but she would stand it for now.

Sheik glanced back to Kyrie briefly. Then he held his red gaze on Melissa, giving a look that would (somehow) tell her, 'When there is time.' The assassin swiftly turned, heading after the desert guide. As he approached the entrance to the Spirit Temple, he saw Reselia standing at the entrance, now speaking with the two warrior who guarded the entryway.

"...two men and a woman entered the temple several hours ago. We identified one of the men as Ganondorf- supposedly his Majesty had decided to return that evil king's sword to him- and the other two looked like Sheikah."

"I understand your insecurity about letting them in, but thank you for doing so, even if one was that old Gerudo."

"Also, about an hour ago another Gerudo guard entered the temp-"

"What? I never issued any orders for any of my women to be sent in. Either someone is AWOLing, or we have an imposter on our hands..."

Sheik watched the three carefully, not stepping all the way forward lest they see the Sheikah and realize they were being listened in on. Upon hearing Ganondorf's name, Sheik put a hand to his keffiyeh-covered chin. 'Ah! I did forget to tell that sorceress that not neccesarily everyone who is helping us would be considered a hero... I'll tell her the next good chance I get, I suppose.'
Nintendo Mastah - October 31, 2010 08:06 AM (GMT)
((Before doing such a thing, D, please tell me next time, capische?))
*From the Coliseum City*
Melissa walked out from the portal, glad to be alive. Deciding to let her friend lead them to the temple, she folded her arms across her chest and waited, hoping they would gain entry to the temple soon enough. She looked about, spotting the temple. She noticed something was amiss, but Sheik seemed busy, and Reselia aswell, so she had to wait a little before telling them. It seemed the temple was shaking in its very foundations, as if it was about to collapse. This did not make the paladin happy.
((Sorry for the quick "jump" here, but we're stuck without D))
Eventually, the adventurers were allowed permission and proceeded into the temple.
*To the spirit temple*
Bootman - November 2, 2010 05:18 PM (GMT)
*Bunny hop teleport the the sand-chamber thingy*
D - November 2, 2010 06:04 PM (GMT)
((Mild time to get some finishing posts before I fall totally inactive.))

Sheik ran into the temple without proper permission upon seeing it collapsing.
*Jump to the Spirit Temple Goddess Chamber*

Reselia swore at the rumbling and ran in as well.
*Jump to the Spirit Temple Goddess Chamber*
Bootman - December 5, 2010 05:20 AM (GMT)
*From the sand chamber*

A large crash indicated the final collapse of the spirit temple, unable to withstand the battle. From a pool of shoadows, the group from inside slowly emerged. Kyrie was obviously shaken from using her magic so much. She waited for the other to appear.
Fox IV - December 5, 2010 05:24 AM (GMT)
*from inside the temple, yo*

One moment, Ikan heard the rumbling of the ceiling and feared for the live of the princess, and the next he was outside the temple in the bright sunlight, blinking at the sudden shift in light. Immediately he saw the figures around him, though it took a second to realize he had been accidentally transported out of the temple. And then he saw her, the Princess Zelda.

Ikan dropped to his knees before her. "You're majesty," he said, his head bowed low. "It is my sworn duty to protect the Royal Family, but the goddesses have sent me to protect you from the evils that encrouch upon this blessed land. I pledge my life for your protection."
Sesshomaru - December 5, 2010 05:39 AM (GMT)
*From the Spirit Temple*

Zelda appeared just moments before, sitting next to Siegfried's body. She stood quickly and looked about, unsure of what happened. She looked down to the man that was once possessed, smiling that his color had returned to him. Zelda was praying that he would wake up, begging to the goddesses through the confines of her own mind. Somehow, she knew everything would be fine.

Reselia appeared, dumbstruck by the final moments within the sacred Spirit Temple. Though eager to know if everyone was all right, the tears on her face streamed heavy as before as she looked upon the remains of the place she just escaped with her life. Outside of the temple sat each of the guards that were on duty, none of them holding back the tears that had welled up inside them. Reselia continued towards her soldiers, though didn't expect to shout at them. It was a time of mourning, and the routine discipline wasn't appropriate for once.

Zelda turned quickly as a voiced addressed her, confusion quickly melting away into a soft smile. As the Sheikah spoke, she placed a hand on his shoulder to signal for him to stand. "We do not ask your people to bow anymore," Zelda said to the man, hoping he would raise his eyes to her. "Your people are an equal, no matter the actions your ancestors have taken. Hylians and Sheikah bear no requirement to bow, lowly as a servant.

"I am so glad to hear by message had reached you. I released it to each of your kind, yet you were the one to respond. Your sense of loyalty shall not be taken advantage of and, even though I do not ask for a pledge of loyalty, I am glad that you are here to protect me. Such an oath on your part respects the wishes of those that came before, and I am overjoyed to say that I feel the same respect.

"I am sorry for talking so much, though it has been difficult for me to show appreciation to those that have helped me in my... previous state. May I know your name, Sheikah warrior?"
Bootman - December 5, 2010 05:56 AM (GMT)
[So D, do we get any po- oh yeah, he's not in the group anymore T_T]

Despite color returning to his skin, his hair and lost it's redness from the experience. It was now a dark brown.

After a few moments, Siegfried's body had a soft glow to it. It was holy in nature, and anyone inclined to the alignments of magic or the gods knew that it was the Golden Godesses might at work.

The light grew brighter and brighter untill it was like a sun. Then, just like that, it faded away. Siegfried's body and cloths had been transformed. He had a Sage Robe (More of a jacket, really) on and in his hand was a staff. Along with that, a crytsal or emerald appeared along his neck. A womans voice could be heard in the group.

"Thank you, for keep our young Sage of Spirit alive and taking such good care of him. If it weren't for all of you, he would surely have been dead by now. We have blessed him with a staff with which even one with now magical power can cast spells. But saving his life was not at a cost. The color of his eyes and hair are the smallest price he had to pay, for without the crystal that hangs around his neck, he will be reverted to how he was before we healed him, on his way to death door. He will wake up shortly, and when he does, inform him of what I just told you. Thank you, once again."

Kyrie was suprised that the Godesses directly aided this welp. If they were able to provide assitence like that, then what was their excuse for leaving her in the demon realm? The woman glanced at the new Sheikah who had arrived, but other then that, she just stared off into the sky, thinking of her next move.
Fox IV - December 5, 2010 06:09 AM (GMT)
((Hopefully there are no bad guys, or they'd know his weakness. Haha!))

Ikan turned to look up at the princess while she spoke. He opened his mouth to reply when the man on the ground transformed into something inspired by the goddesses. Ikan listened as the words were spoken aloud to them, and he remained silent for a moment afterward, afraid to break the stillness of the goddesses words.

But alas, the princess had asked him a question, and he had no choice but to answer. He turned his attention back to Princess Zelda, and lifted himself to his feet despite that he knew even though Shiekah and Hylian may be equal, he was still a servant to the Royal Family.

"My name is Owain Rylan-Aodh Ikan, your majesty, but most refer to me by Ikan," he said clearly and with respect. He had worked for years at the castle, and he was surprised she didn't know his name. Regardless, he would treat her with nothing but respect. She had been through much, and he doubted that the name of a Sheikah was something upon which she placed great urgency.
Sesshomaru - December 5, 2010 08:08 AM (GMT)
Zelda hadn't turned to watch as Siegfried was changed into a Sage. She only stood and grinned, her eyes closing for a moment. She had felt her prayers answered the moment she felt them, hearing the Goddesses say, 'It shall be done.' Though she wasn't sure what they meant, Zelda felt a sense of warmth in their sacred words. Here now was yet another Sage, protector of Hyrule. Zelda's smile did not fade from her face.

Looking to the Sheikah, the Princess only felt more joy when he stood to his feet. Not too stubborn, yet very respectful. Such loyalty and nobility could be found few places. Not even the wisest scholars of Hyrule Castle held such valiance.

A though hit Zelda as she rose a hand to her mouth. Her eyebrows raised and the curves that marked the edges of her lips fell into a frown. She had seen the man before, though only now that she asked his name did she truly remember his face.

"Sir Ikan," she said, bowing slightly herself. As she rose, a redness filled her face. "I have faith that you shall be a faithful guardian, just as you have always been." With that, her blushing subsided and she turned towards the others.

"I had sensed there were other Sages in the group," Zelda said, though she had seen with her own eyes that Rupert and Sehkon had vanished. Having taken the form of Sheik at the time, the others would not be aware of her knowledge. "The opposing Sages of Light and Shadow have vanished to their respective temples. They stand before the gate of my own dominion, lingering before the Doors of Time. As the task to halt the wicked Abbadon's quest for power has been accomplished, the need to move forward is upon us."

Zelda looked about at the group, her eyes moving from Kyrie to Siegfried to Ikan. She turned to looked towards Reselia, though the woman seemed to be focused on her own problems. Looking back towards the group, Zelda said, "I have witness of the power each and every one of your hold. Though each of you hold unique ability, the combined strength of this group has led to the downfall of a potentially mighty tyrant. I ask, humbly, for the members of this party to become my warriors, my guardians, and my friends. The offer to leave is welcome, though this invitation opens the doors to unexplainable reward. Not monetary, mind you: something much greater."

Another glance about the group, with one stop for Zelda to smile softly at Siegfried, allowed for one last question: "Do you accept?"
Bootman - December 6, 2010 01:28 AM (GMT)
[New stats added. Also, my internet died and I lost my post. So this one is going to suck. Heres what happend:

Kyrie and Siegfried both agreed to join, but Kyrie said they should hurry on out of the desert.

Siegfried cut his hair because it was getting in the way to much and was hot in the desert.

Siegfried wonderd a little bit about the crystal, but didn't spend much time thinking about it.

Sorry it sucks, guys, but I'm not re-typing 6 paragraphs]
Sesshomaru - December 6, 2010 01:29 AM (GMT)
((Quite the unfortunate happening. :( Also, everyone that was involved in the battle gets 2 stat points. I'm not sure if Meta said it to anyone yet, so I'm posting here just so the people involved can see it.))
Fox IV - December 6, 2010 02:57 AM (GMT)
Ikan had already pledged himself to protect the Royal Family (the princess specifically), so he gave only a firm nod. He didn't know where this journey would take him nor what he would encounter, but he was certain someone in the group did. However, he did not speak now lest he give the Princess reason to doubt his loyalty.

((Woah, short. And totally exciting, I know.))
Sesshomaru - December 6, 2010 03:15 AM (GMT)
Zelda looked around at each member as they agreed to join, the smile she had worn only moments ago appearing again. The others would be getting quite used to this expression. "Very well," she said, turning slightly to look around. The sandstorm from several hours before had subsided, the need to guard the location of the Spirit Temple no longer needed. She could see the exit to the desert in the distance.

"Let's be on our way," Zelda stated briefly, finally stepping away from the spot she stood. He dress skid in the sand and left a wide, flat trail instead of footprints.

*To the Desert Wasteland*
Bootman - December 6, 2010 05:33 PM (GMT)
The martial artist played around with the staff as he walked, while the spellcaster put her cloak back on to protect it from the desert sun.

*Siegfried and Kyrie to Desert Wastelands*
Fox IV - December 6, 2010 06:23 PM (GMT)