Title: The Inn's Underground
MetaKnightFan - June 13, 2010 08:39 PM (GMT)
An old structure built right under the inn. It seemed to be an underground fort that formed a large intricate web of corridors and rooms that go deep into the earth. Its architecture was that of a time long forgotten by all, though its contruction was far more recent than that era.

Shadow Knights roamed the fort very much like hollow possessed armors in a castle.
*from the Inn's 1st Floor*
Syndellius reached the end of the stairways, and his expression was very much bothered. The very air of this place brought back unwanted memories. As he took a step forward to the entrance, his disguise disappeared, leaving nothing behind but bits of shadow energy.

Syndellius sighed, and watched as he aged at least 5 years, going back to his normal self. He was still wearing his old noble clothes, it seemed. But, despite this being him, he could still finish this once and for all. He walked the corridors and stairs without hesitation or getting lost, for even if a long time had passed, he knew well this fort.

It was then that he reached the bottom level of the fort, and was faced with a large iron gate, guarded by two large corrupted full armored lizalfos wielding spears.

"Open the gate." And so, they did follow the man's orders, and he entered the final room, to face his past.
There it was, facing him, mocking him. Though it had no eyes, its stare upon the inn owner was something that bothered him very much. His armor sat in his throne, chained to the walls by several chains. Yet, the only thing that held those chains together were two swords, placed in two pedestals, each in a side of the room.
"Aethelnoth." Syndellius said. "This is the final decision. In this very moment, I can end your reign...or I can once again take your mantle. For even when I leave you to rest in this tomb, your very presence still haunts my everyday life. If not through memories of Amy, you torment me with your very aura that attracts people such as those templars to me. It seems that a man can't bury his past...only destroy it or live with it...so, this is what I will do right now..."
DornKoon - June 13, 2010 08:53 PM (GMT)
Alicia had not been talking at all during the little walk, she had seen far worse things in the world to be bothered by any of this right now. She examined her husband casually and then her eyes moved to look at the armor on the throne and the chain with the two swords. She did not show if she wanted him to do either of the two things he said he should pick from, it was his decision to do what he felt to be right.
Not that she at all minded any of them, she could live with having him stay like now or return to how he once was before. But then again he was a man so he would need someone to hold his hand, even if she loved him of course, in her own way.
"Going to let a piece of armor control you?"
she asked him casually, then she paused to let those few words sink in before she continued to talk.
"I say do not return unless you know you wont be controlled by something else. Neither would the man I married be effected by the words of a stupid Templar"
it was a little hard, but she just said what she felt to be true.
"Do not take on that armor unless it is what you really want"
the lady added lastly, then she waited for what he would reply back.
MetaKnightFan - June 15, 2010 08:14 PM (GMT)
Syndellius looked back at Alicia. "I guess I shouldn't be surprised that you've followed me." His gaze went back to the armor, though. "The problem is not going back...it is staying. Come to think of it...are you truly happy as Alicia? I may have tolerated working at an inn to some extent but...that is not who I am. I've kept this mask on for too long, Dominicia. I can't deny my nature. I am a demon, I've always been and I always will be." He sighed as he approached the throne.

"And yet...I still feel that I can break away from that. But I can't summon the strenght to destroy everything I've fought during my lifetime for. And I don't think that my achievements should now sit on an old fort under the ground, like ancient relics...no...I believe I have moved on. Time to resume my projects, seek out my goals. I've had enough peace of mind. It's about time I roamed this land once again."
The demon's decision was apparently taken.
He stood in the middle of the room, and soon his body started to turn into an amorphous gathering of dark energy, which then floated towards the armor. For a moment, everything became once again motionless. But then, the golden bracelets started to glow, and with a mighty pull from each arm, the armor destroyed the chains that imprisoned him.
He stood up, and looked at his own hands, opening and closing his fists eventually, as if getting used to this form. He shot strings of darkness at both blades, and brought them to him and sheathed them.
"I can't belive that I got used to being Syndellius, Dominicia. I feel as I've been in a deep slunber ever since. Or at least my powers were." Aethelnoth said. He stood motionless, gazing at the woman, waiting for her response.
DornKoon - June 15, 2010 08:38 PM (GMT)
The lady did not try to stop him from doing what he did, she just hoped he was not making another mistake. Would not be the first time he did one, silly man. But it was one of the charms with him, that he was such a silly man sometimes.
"Truly happy? I do not think one can be truly happy"
she commented with a honest voice, then she sighed.
"So now you have your old self back, about time. But what is your goal? Taking over the world?"
she folded the arms over her chest as she looked at him.
MetaKnightFan - June 15, 2010 09:18 PM (GMT)
Aethelnoth walked towards his wife. "One cannot have all he wants all the time, but he can have some of what he wants. And with that, I believe I am truly happy and satisfied with, Dominicia. And I have more than many others at this moment...power, money, and of course, you." He then looked back at his throne. "And yet...I do not have Amy, nor a heir, legacy or kingdom. I'd say world domination is quite an utopic wish...very much intangible, or very little lasting. No, I do not want to be the one at the top...too many aspire that position, and they'd do everything to get there. No, I'd settle for some territorial conquest, I do believe my empire is quite small as it is."

The black knight pulled a hidden lever on room's wall, which made the central stone of the room rise, revealing a small hidden chamber with a pearl floating in the middle. It was protected by a magic barrier, but once Aethelnoth touched it with both Nethermist and the Sword of Sages, it opened. He grabbed it and held it in his right hand.

"This pearl...I found it long ago whilst working with demonology experiments...it contains such a powerful aura...yet it seems its potential is locked. I might as well seek for something that may allow me to use it." He then put it away, and grabbed another thing from the chamber. It was an old book which was filled with information regarding artifacts Aethelnoth had come across along with what he had developed himself.

"And of course...there's anoter artifact I seek...you see, Dominicia...I've learned that there is a certain relic that would allow me to gaze at the spirit world and seek the spirit of someone who died. And of course, I'd be able to return a person to life at any age which the person lived through...so, in theory, I could bring Amy back. But, of course, this relic has other uses, and I believe that a revival takes up power...so as it is now...bring our daughter back is just a far away dream.
DornKoon - June 15, 2010 09:26 PM (GMT)
The wife watched her husband when he was having his little moment in the light, she followed his movements with her eyes. But did not seem like she was about to walk after him, the eyes examined the pearl he showed and she had to admitt that she had never seen something like that before.
"Bring Amy back? I advice against following your own emotions to have her back again"
she told with a serious voice.
"It will only be like the last time, I imagine our girl is more happy where she is now.

To force her back into the realm of the living would be cruel"
even as Dominicia had never really loved her daughter, she was enough of a mother to have a strong feeling that Amy could not forget her father if he revived her out of his own selfish emotions. Then he would end up as depressed as he had been before all this happened, no Dominicia was going to do everything in her power to ensure that something like that never could happen.
"But what relic are you talking about anyway? there are many objects around the world with similar powers."
MetaKnightFan - June 16, 2010 12:54 AM (GMT)
"Maybe so. But oh well, I've really got over that. It was an idea. That artifact is an object of ever changing shape that gives full access to the spirit world, more or less a gateway. It has other uses, but nothing that has quite caught my attention. I could use it to acquire knowledge dating back to the dawn of time, but that is something I will consider a minor goal. Please do follow me so I can explain everything to you somewhere where I have the proper tools to do so." Aethelnoth then exited the room and headed towards the war room.

It was a medium sized room that was a bit different from the usual pattern in the rest of the fort. It had wooden walls and flooring, as well as the furniture. There was a long mahogany table placed in the middle of the room. The table had a few maps of the continent placed upon it, along with a few books next to the largest chair in the room.

Aethelnoth sat in said chair, and sighed. "Those books and this map are what made me take a break, Dominicia. The truth I've stumbled upon was simple yet very disturbing. Look at each of those maps, look how much the divisions have changed. The countries are becoming less and less each day...there's barely any place left in which to rule unopposed. There are no empty lands. At this point, even the Army of the Crusade would be in average to low in soldiers. And more...all the monarchies in this land have fallen except for the Royal Family, all because they are "good"...There's no place left for persons like me. Domination seems unachievable." He hit lightly the table, though it did make a loud noise, after all he was still getting used to his former strenght.
DornKoon - June 22, 2010 07:36 PM (GMT)
Dominicia remembered when he was like this before, it happened from time to time. The woman sighed and followed her husband thought the lair into the war room, she did not speak yet and just left for Aethelnoth to do the talking to most part. He seemed to have been giving this some thought for a while, but for some reason she was not surprised as to why he had started this calm life, the words was true.
The enchantress examined him as he hit the table, then she gave the matter some serious thought before she replied anything.
"Well I am no expert on the subject, but I am sure you can find an answer some way."
she assured him, in all she was not the one to ask things like this. But she was going to try and help as much as it was possible.
"But I do not think that a tyrant is very welcome to the people, as why they love the rulers now. I think it might be hard, but maybe if you made the people like you it could be easier to gain trust?"
she shrugged her shoulders, it was after all how she had been working most of the time.
MetaKnightFan - June 22, 2010 08:20 PM (GMT)
Aethelnoth pondered on his wife's words. "You've got a point there, Dominicia...but, the main problem is not whether I have followers who find my way of ruling compatible with their lifestyle. The problem is that if I want to start a kingdom, I have to claim the land of one of the two countries, which is considered invasion. And I'm through with the low level villany. However...I could perhaps go for the borderlands...somewhere with lower influence from the Hylian Kingdom."

He followed the borders of the region of the map with his finger, searching for an adequate spot. "Well, I could start my empire here in the forest...maybe if I go deep into it like I had done in Holodrum before the Great Wars. But, I know that in such desolate places magic runs free...so I guess it'd be better to check the place out myself. It will also be helpful to do that so I can see what those templars are up to."

The black knight got up and walked to the exit. "So, I assume you'll come with me? I would enjoy the company, and I got a mirror with me if for some reason you need to come back here."
DornKoon - June 28, 2010 06:25 PM (GMT)
Domi did not speak and she left for the husband to do the talking, it seemed as if he was getting back to how he used to be before. She was not sure what part of the world he would take over, it was something that should be told with time.
"How do you plan to take over without force?"
she asked him slowly and brushed one hand thought her long white hair, the piercing eyes glanced around the area before they focused to the man once again.
"The forest? Well it is a mysterious place, but unless you have some way to find your way around we would be lost in there."
the lost woods was a very dangerous place and much older then any of them, but it was an idea to maybe use the grounds around the lost woods?
"How do you intend to solve that problem my dear?"
The woman slowly walked over to her husband when he asked if she wanted to come along with him.
"Of course I will join you my love"
she told him.
MetaKnightFan - June 28, 2010 06:46 PM (GMT)
"Well, I will use force to take over, Dominicia. But, it is much more easier to conquer lands where political power is weaker. Places far from a country's capital." He started to walk to another room in the fort, a few floors above the war room.

Aethelnoth pondered on what she said about the lost woods. "That is exactly what I want for my empire...a distant place with no defined path towards it. I'll stay in the shadows as I've done for so long until my empire has grown enough to become the next great nation. This is a long term plan, I have no wish in building my kingdom in this era. I've lost some precious resources and I must replace them...and I know an ancient forest is bound to have great magical powers within it...and I am not going to let those templars get to them before me."

They arrived at a small room with a large iron door, that led to a cave that would take them to the forest. Aethelnoth used the strenght of the Power Bracelets to open it, then motioned for Dominicia to go first, for she wouldn't be able to close the door.

"I hope you are prepared for battle...I'd hate to be in another hostage situation." He commented, recalling a battle he fought in long ago in Order Town.

*to the Lost Woods*
DornKoon - June 28, 2010 07:02 PM (GMT)
Dominicia sighed softly and walked after her husband out from the chamber into the next, she did not object. It was his way to do like this, but he should try to get his own powers rather then using others. After all she knew that he was strong now, the last time he had power it did not turn out as any of them had imagined.
The enchantress snorted at his words and looked really hurt.
"Well make sure not to get yourself captured, I would not want to have to save you from the templar"
she replied back with a serious voice, she raised one of the eyebrows and then she smirked.
"Try not to fall behind my dear, your not young anymore"
she added before walking inside.
*To the lost woods*
MetaKnightFan - August 5, 2010 02:46 AM (GMT)
The remaining shadow knights in the fort recieved their lord's orders, and started to dig and carve paths on the underground towards the metal sources. Wood was being taken to the recently formed excavation sites, to build the support columns.

The only remaining forge from the Citadel was now rather old, but it was put to work, since more shadow knight armors and picks were needed. The flames were heating up the rusty forge, and melting the steel left in the reserves after the old lair had been dismantled. The molten metal then flowed down to the anvils, and several armor pieces were being made and enchanted. An especially large one was being made, and then had to be welded together due to its size.

Once all the required
armor pieces were done, the hollow steel suits were taken to the enchanters.
Hildrimfel came out of his quarters and headed straight to the enchanting room, arriving at the same time as a cart full with onyx colored rocks.
The suits of armor were placed one by one in stone slabs, then the enchanters placed a few of the onyx rocks inside the armor's chest, and then were infused with darkness and flame. Once the fire touched the onyx stone, the flames were spread throughout the inside and released from certain spots such as the helm. The flames then changed into a green color, and after a few grunts coming from the armor, a new shadow knight had been made.
The shadow knight commander approached the newborn servant of Aethelnoth. "Awaken, my brother, for Lord Aethelnoth has granted you the gift of life, and as a retribution you must heed the call and become one with his will. You are the next generation of the long living legacy of shadow knights...so raise your weapon with pride and serve our lord to the death."
And thus, a new kind of shadow knight was made:
Infernum Steel Shadow Knight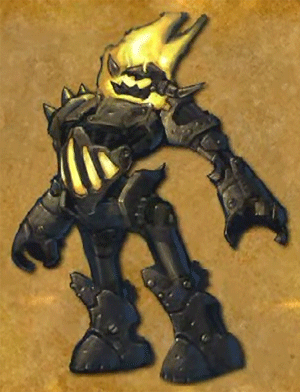 The Newforged Shadow Knights headed to the training hall, where their reflexes were to be tested along with their skills.
Seeing that all was doing well so far for the soldiers, Hildrimfel decided to personally oversee the construction of Ruuku, the largest minion Aethelnoth had made blueprints for. He was of course going to be just an initial version of what the black knight had in mind. In the final version, it would be expected that Ruuku would have as much firepower as the Old Citadel, which is to say, a lot of firepower.
The large suit of armor now had his legs finished and welded, but it was far from finished. Yet, their height was that of a shadow knight, so it was obvious it'd take some time for the armor to be done.
MetaKnightFan - September 17, 2010 07:30 PM (GMT)
From now on, there will be a post per week in this forum, showing the slow growth of the Black Knight's base, and at some point, the underground topic will split into larger areas.

For now, the topic will split into:

1. The Underworld's Entrance
2. The Infernum Mine
3. The Forge
4. The Shadow Knight Keep

The links will be provided, and this topic will act as a "map" for the Underworld from now on.
CODE
[(number)]  -  Topic
-----  -   Connection
* - Can lead to the lower/upper floor (will be color coded in pairs to allow multiple different stairways without confusing anyone)
[(number)...] - Topic may have more than one floor
The Underworld
Aethelnoth's Lair
1st Floor [2...]-------[1
*
]----------[3]
Underground 1 [4
*
]