Title: SD Gundam Minisuits: Pokemon Fire Red Hack Project
Description: An ongoing bit've work...
Buddhabright - December 10, 2010 09:08 PM (GMT)
Okay, my bro (who's doing the programming side of things) and I are working on a hacked GBA rom of Pokemon Fire Red, and replacing every pokemon with an MS or ship ripped from SD Gundam G Generation DS.
Yen's kindly offered to help out with NPC sprite alterations (turning opponent characters into Gundam characters or NPCs' outfits into uniforms, such as her awesome Anaheim uniform sprite and alteration of a trainer into 08th MS Team's Kiki), so I aim to add her work into the photobucket album we're using for the game's image storage, found
here
.
It's still very much in the planning and putting-together stages, so suggestions, queries and questions are welcome (particularly questions, since there's bound to be a buttload we ourselves haven't thought to address yet) - once it's getting close to done, we hope to post some progress shots!
ecwp1981 - December 13, 2010 10:56 AM (GMT)
Hmmmm wouldnt it be better if you could use the sprites to make something like an advance wars game where you have zaku and gundam grunts battling it out and main character gundams as unique heroes that have 10/10 as their life and normal grunts have got 5 units but 2/10 HP each??

Of course, tanks, missile cars, planes and ships can be added into the game as well ;)

Just a thought :)

I have not played pokemon before so not sure what to expect if they were turned into SD gundams.
Buddhabright - December 13, 2010 05:50 PM (GMT)
It's basically turn-based fighting, picking from one of four moves - and different units will have weaknesses to different kinds of attack, like SUMOs will be beam shot immune, or many Gundam SEED units will be immune to solid impacts...
Gundam12 - December 17, 2010 11:25 PM (GMT)
So what exactly are you replacing each type with?
Or does it pretty much just work and Solid and Beam ammunition?
Buddhabright - December 18, 2010 05:31 AM (GMT)
Well, so far we've got less of a type system and more of mecha having a focus on firepower, melee combat or speed. I reckon we're gonna be toning down the rock-paper-scissors thing for it a little bit.

Weaknesses or immunities such as Phase Shift or I-fields will still be in there, a lot of units will be having those as their abilities. I was worried it'd need to be straight-up replacements of each type, but the software's apparently a lot more flexible than that.
Seises - December 18, 2010 04:49 PM (GMT)
Any idea on a type of story or script? or is that being done when the base game is down? Something like a world which humans inhabit and build there own SD mecha? Then battle them? The wild ones could be Stray SD Mecha's or Masterless Mecha?
Buddhabright - December 18, 2010 04:59 PM (GMT)
So far, that's basically it. It might be post-Turn A, since they disintegrate into a sort of rainbowy cloud thing a bit like the Moonlight Butterfly when they go into the datadiscs (replacing pokeballs - think of a Smartie-shaped device the size of a CD). They're not built, they just exist on their own.

We've worked out a system for exp gain and evolution - the minisuits themselves know very little about what they can do, and the same way a pokemon learns to use its abilities a minisuit will gain enough data (exp) about itself to learn to activate and use its various weaponry. Say, a Justice Gundam reaches a certain level and learns to use its backpack lifter's beam cannons. When they've gathered enough data to fully understand their own mechanisms, they attempt to upgrade themselves - evolution from one MS to another.

We're probably better off waiting until the game's combat system and evolutionary effects and things are finished before we start scripting a story. It'll probably follow the original pokemon story pretty closely, meaning that the Titans are probably gonna take the place of Team Rocket - but since you guys are our focus group, let's hear suggestions on who else could do the job!
Gundam12 - December 20, 2010 09:30 PM (GMT)
I think the Titans would work pretty well, it all sounds very VERY cool so far.
Hmm, You could try Mafty? they're like a terrorist organization, which may be useful for team rocket replacement?
Buddhabright - December 21, 2010 05:40 AM (GMT)
Mafty? I'm not familiar with those buggers.

If we had 00 sprites to put into it, I'd ask Yen to whip up some Innovado NPCs as Team Rocket, but the handheld SD Gundam games haven't got round to 00 yet. Fail.

Another issue we're considering is who the player characters, male and female, should be! Since it's the Turn A on the title screen, Marc's suggested that we use Loran Cehack and his cross-dressed identity Laura Rolla, or his crazy tomboy boss Sochie Heim. There's so many heroes, though, so it's worth considering others.
Gundam12 - December 24, 2010 10:19 PM (GMT)
If its centred around Turn A, I like the idea of using Loran, specially since he's got his err 'female counterpart'...
Im not too knowledgeable on Turn A so I dont know XD.
Buddhabright - December 24, 2010 10:38 PM (GMT)
Well, Turn A is basically taking the role Mewtwo had in the original game, with Turn X as Mew. With that in mind, it's a bit harder to judge who should be where in-game. Loran/Laura's probably the best bet we've got so far, simply because that'd free up other known hero characters to be gym leaders and NPCs.

There's also the question of the rival, and who that should be; one original idea was to have Camille Bidan be the player and Jerid Messa the rival, but working on whether the rival is the other player gender option would make using Laura Rolla a bit impossible. So Sochie Heim's probably a good idea, particularly since she actually ended up piloting Turn A a couple of times 'cause she thought someone from Earth should be using it, and considering herself generally better than Loran for a lot of the series.
Aoi Eiswander - January 18, 2011 11:23 PM (GMT)
He finally got me on here (Buddabright), hello, I'm the editor for the rom hack. I'm doing the code editing, and major G Generation sprite revisions (converting them to run within the pokemon engine). Probably wont be available on the forums often, as I have a job and I'm working on this hack. But if all goes well, we may have new projects to follow on this one when finished.
Buddhabright - January 19, 2011 05:21 PM (GMT)
Sprite insertion is confirmed as functional!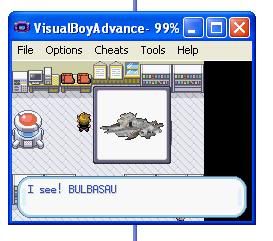 Combat engine seems to work too: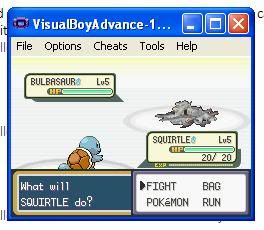 Some sprite editing seems to be needed - at least to put outlines around units to make them fit the interface and game graphics better - so now we come to it: which units should be preferred for starter units? We need three, obviously, preferably with some differences that'll allow similar weaknesses to one another - range/melee/speed, for example, or something similar.
So let's hear it! Which units do people want as starters, and why? Let's try to stay out of signature suits like ace custom units - a Zaku, a Guntank and a GM, perhaps? Something, I don't know. This is where it becomes important to have people to bounce ideas off!
Seises - January 19, 2011 06:15 PM (GMT)
Impulse (Cannon Pack, Sword Pack, Norm Pack) or Strike (Cannon, Sword, Aile) for the Range, Melee, Speed balance you mentioned. (dunno how the evolution system will work but it's just a idea..) urm... yea.. :blink:
MR-X - January 19, 2011 09:48 PM (GMT)
ZAKU!! ... heat hawk , machine gun , cracker grenade, missle pods, magnlea cannon, bazooka ! :o
Freedom - January 20, 2011 01:26 AM (GMT)
Uhhhh if it's just the minor MS you're going for then maybe go for ones from different series? Like Zaku, Tieren and a GINN or something along those lines?
Gundam12 - January 20, 2011 10:02 PM (GMT)
I say...
Gaza-C, Hizack, Nemo
All 3 were developed and used at the same time in a 3 way war during Zeta sooooo it would be fair and even.
Buddhabright - January 20, 2011 10:36 PM (GMT)
No can do on the Impulse, Seises - that's going to be the Eeveelutions that evolve from Strike, along with Strike Noir and Akatsuki (which evolve normally from the male Strike and female Strike Rouge respectively).

G12's idea about having one basic MS from each of Zeta's three factions seems best so far, simply in terms of balance - plus if we do that, we can have Zakus as basically Pidgeys right at the start...which would lead to GMs as Rattatas, for that matter. It's by no means settled yet, we've got a LOT of choice about units from most series all the way up to Destiny, but sadly not 00 (sorry, Freedom; I wish we had them).
Seises - January 20, 2011 11:31 PM (GMT)
S'alright that's just what came to mind when you mentioned the types, I can just imagine a Pidgey Zaku :lol:
Buddhabright - January 20, 2011 11:42 PM (GMT)
I dunno what we're gonna do for sound effects when it comes to pokemon calls, either. They all make their own sound, but I can't see a zaku chirping like a pidgey.
Aoi Eiswander - June 22, 2011 08:36 PM (GMT)
Due to circumstances concerning the ambitions of the project and the current capabilities concerning ROM hacking for the pokemon games, the scope of the current project is expanding.

We are moving from Pokemon 3rd Gen Engine to the Unreal 3 Engine via UDK.

I have experience in working with 3D based projects in the past due to my university education, and while the project will take longer to complete than the original ROM hack's approximation, we feel it will become a much more capable and original title capturing the feel and presence of both Gundam and Pokemon. The ability for this new project to expand in the future is also a very possible condition with online play and additional area's and MS to be introduced long after the 'final version' of the game is launched.

As a technical note, this game's graphical features are being designed around the PS2/GC/Xbox era to ensure a playable title for many platforms and to shorten the amount of time required for development in terms of geometry production, but animation and expanse of area's/levels will follow the precedence set by more modern titles. The options that will become available to the development of this title has seriously expanded, and for it's initial 'final' version, we already have ideas in mind that will blow away the traditional RPG game play, but keep it so familiar, it may as well be window dressing.

So, keep reading this space as we notify you of updates on the project.

Additional, if you have experience with Unreal Script, Concept Art drawing, 3D modelling or anything related to the Unreal Engine, please, drop us a PM, as we'd be interested in bringing almost anyone into the project to help us speed up it's development. As such, the nature of the game, gameplay and our ambitions are on a need to know basis, but as we finalise details and further the production, you'll hopefully see some impressive things to come in the future.