Title: Hot Music
Description: Forum Set
Vaybs - August 3, 2011 12:21 PM (GMT)
My tutorial has moved home to
Tutorials by Vaybs
Kylara - August 3, 2011 04:37 PM (GMT)
Well Vaybs... i put my to do list on hold cause i just had to make one of these.
Here is my result.
Vaybs - August 3, 2011 06:28 PM (GMT)
that's great hunni, thank you for making me one hug

good thing i can distract you from your to do list, mine
get's overlooked all the time rotf
Gwils - August 10, 2011 03:20 AM (GMT)
Hi Vaybs...
Loved the tut :) I did mine just a wee bit different.
I made a set for you.
hugs
Gail aka gwils
Sorry vabys it looks like photobucket has done something funky with the banner :(
Vaybs - August 10, 2011 11:08 AM (GMT)
great set Gail yay thank you hug
Looks like PB has rezised it, think they have a size limit
and this banner is a heavy one so that's probably why.
Try uploading it in tinypic.com instead ;)

You've done copy/paste with the animation that's why
you've only got half of it, if you look in the tut, it sais drag it
over then you get it all whoop whoop
Sandra - August 10, 2011 09:10 PM (GMT)
great tut Vaybs yay
Vaybs - August 11, 2011 02:08 AM (GMT)
awesome take on it Sandra, thank you for making me one hug
Araceli - August 11, 2011 07:08 PM (GMT)
I thought I had uploaded my participation, but do not see the post. We climb back in case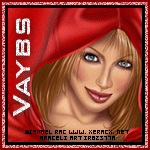 candycats - August 11, 2011 08:30 PM (GMT)
Vaybs - August 11, 2011 11:31 PM (GMT)
Thanx for showing yay
great to see all your takes on it!!!! whoop whoop

Araceli you didn't forget to post it, you did when it was in the mystery challenge ;)
Linell777 - August 14, 2011 08:33 AM (GMT)
What a fun tut, Vaybs! I really enjoyed it! Here's my version:
Hosted on Fotki
Hosted on Fotki
Vaybs - August 15, 2011 02:23 AM (GMT)
awesome Linell great take on it , glad you enjoyed it, hug
Angel - August 20, 2011 05:59 PM (GMT)
What a beautiful tutorial Vaybs thank you
Vaybs - August 21, 2011 12:54 PM (GMT)
Awesome take on it Angel yay
Angel - August 22, 2011 11:42 AM (GMT)
TINA NZ - August 25, 2011 03:52 AM (GMT)
THIS WAS A TUT ON STALKERS FORUM,I'M NOT REALLY A FAN OF MISSY'S ANI'S SO I USED ONE OF LOVEY'S INSTEAD. I DID DO AN AVI BUT DON'T LIKE HOW IT TURNED OUT SO NOT POSTING IT. LOL


Vaybs - August 25, 2011 10:24 AM (GMT)
yay cool take on it hun, and you're making me curious about
the bad avi now :lol:
LadyQueen - July 15, 2014 02:26 PM (GMT)
This tut is Awesome !! it was in another groups weekly challenges so had to try it and I learned something new, well a few things, didnt know you could drag the animation to the tag, thats why i was wondering why sometimes i would copy my animation to a banner tag and it would be like cut off , and your tut also taught me how to save in that mng file, never knew that and always hated to save an animation scared it would mess up my optimize so Thank you for a cool tut here ya go
Vaybs - July 22, 2014 05:01 PM (GMT)
Awesome set, thank you for making me one hun :hug:
So happy to see my tuts keep teaching you new tricks,
I love it wvery time I learn something new, esp when I learn
easyer ways of doing stuff than what I've been doing, then I always go;
"why didn't anyone tell me this before?" lol
Betsy E. - September 2, 2014 10:12 PM (GMT)
Here is my try of your great tut .hope you like it
:hug:
Betsy E. - September 3, 2014 12:56 PM (GMT)
I just love this tut, this time I made a blondie set for myself
:hug:
Vaybs - September 14, 2014 08:41 PM (GMT)
Awesome sets Betsy snuppa yay yay

TYSM for making me one :hug: