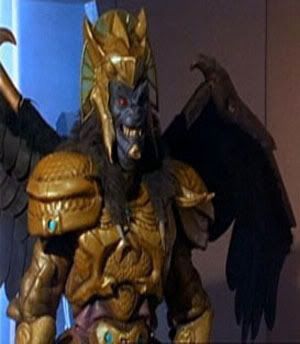 played by
Darthvegeta800
Name:
Goldar
Powers:
Goldar has the natural strength, stamina and hardiness of his species. Titans are ruby-eyed; blue skinned feral brutes of imposing stature and wings allow him to carry his body into flight. On top of his innate abilities he is a well trained fighter and has endured much hardship over the ages, strengthening his will and power. He has mastered the Titian ability to fire superheated energy projectiles from mouth and hand. Though he prefers to use his broad sword to do this as it aids him in doing more precise and efficient strikes. The sword also allows for him to make site to site teleportations. He uses the sword one handedly though due to its size a normal human would be forced to wield it with both hands. He also wears a golden helmet and golden armor, specifically designed for him. It offers great resistance and seems to give a certain limited magical defense. He shows remarkable cunning and tactical insight when it comes to traps, strategy and warfare in general, has a surprising wide knowledge when it comes to arcane, military and mythological topics.
Personality:
Goldar is a ruthless warrior who adheres to a strict code of self-discipline, and loyalty but also a stance on survival of the fittest. A conqueror by upbringing and heart he lives to lead armies into battle. His primal instincts are one of the reasons his species make such good warriors along with their physical nature. The thrill of battle is exhilarating and he finds great pleasure in locking blades with a worthy foe. That is why he'll frequently focus his attention on singling out a leader or powerful warrior. Until now he has always prevailed however defeat or failure to dominate such a target could easily become an obsession partially due to excess pride, a feeling of dishonor and primal anger turned into fierce hatred. He is most dedicated to a Master that honors him and treats him well. Only the greatest temptations could sway him from obedience or being betrayed by his Master or Mistress. Paradoxical in mentality, Goldar combines both good and evil traits. On one side he can be very cruel, heartless, brutal, ambitious, stubborn, proud and prone to anger. At the other end he is courageous, true to his code of honor, and is known to be quite true and dependable when it comes to comrades and friends especially towards Scorpina.
History:
Goldar grew up on Titan among the Titanian Clans. In fact his bloodline belonged to one of the Royal Families and this aspect still is cause of great pride to him. His kind had a society first and foremost based on strength and magical military might. Warfare and single combat were daily business and his kind lived by a strict, brutal code.
Standing head and shoulders over his people, he quickly made a name for himself rising through the ranks as a leader and untied several clans under him. A respected warlord and infamous warrior, he eventually became leader of one of the great Titan mercenary units. His species sought out as enforcers, hunters, bodyguards and warriors were highly prized through out the universe. Goldar knew he could gather considerable wealth from such alien benefactors especially since he was able to rally prime specimens off his kind under his command.
Seeking glory this way, he had left his world behind him as the society there held little challenges to him. In space he would eventually enter service as one of the Alliance of Evil's field commanders. As time passed his mercenaries dwindled but he continued his service. Gaining experience and strength in equal measure, he caught the attention of one of the great Lord's of the Alliance of Evil.
Lord Zedd in person brought Goldar before him and made him a General after Goldar had saved him from defeat when powerful heroes had attacked Zed. Goldar would serve him loyally for millennia to come. Crushing under his ruthless armored foot, all resistance many worlds would fall before the precise assaults and destructive onslaughts Goldar led on the world's surface in person. Taking out many heroes and resistance leaders in person, Goldar was more in the forefront than most Evil Generals gaining respect and infamy for it in equal measure. It is during this time he supposedly fought side by side with Scorpina as well as other known warriors of dreadful power in the Alliance of Evil.
Eventually Goldar would be assigned to serve the Sorceress Rita Repulsa a vile witch who was to become empress of the west quadrant of the galaxy. Goldar was there to assist her, protect her and lead her army. He also kept an eye on the treacherous serpent while Zedd tended to the consolidation of his conquests.
Continuing to lead armies of evil, he was the vanguard of the Alliance's expanding dominion, herald of Rita. Finally her attention moved slowly towards Terra also known as 'Earth'. In the great conflict with Zordon of Eltar, Goldar almost overcame Zordon while his comrades were one by one turned back into raw materials or banished away. But just in time before Goldar could capitalize on his advantage in single combat he too was banished into limbo.
However centuries later when Rita Repulsa resurrected from her fate she freed Goldar from the dark void. The ancient warrior once more leads her forces into battle striving to end the threat known as Zordon, finish of his Champions and prove his might once more. Desiring to finally establishing himself as the greatest warrior of the Alliance of Evil.