Title: Legends Game Ideas
Description: Brainstorming
Legends Black Ranger - June 20, 2009 04:08 PM (GMT)
Just a thought on what to do next. I had talked with Dan about doing a variation of Happy Birthday Zack but his B-Day is near the end of Oct. so we need to do a few in between. I'm sure Rita doesn't attack every day so we may not need that many to get there especially if it's mid Sept. in game time.

For the next one though what if we do a plot centered specifically around Kim not cutting it as a ranger and having her doubts? Perhaps she is thinking of quitting and we could put the other 4 in some situation where she saves the day and gets to be the big hero. That would give her a chance to prove her spot on the team and to prove to herself that she is cut out to be a ranger.

We might want to use the above idea for the third one. If we don't use that idea what about one of the Trini episodes lihe the one where she is afraid of heights? I think that was the second one in the series anyway. Thoughts?

I think the next five should maybe each star or focus on one ranger. Perhaps we do Trini's fear of heights, then Kim and her self confidence, then something for Billy, something that focuses on Jason and then Happy Birthday Zack? I have a great spin on that one by combining it with the plot of a PRiS ep where it is Ashley's Bday.
Legends Red Ranger - June 22, 2009 11:30 PM (GMT)
I like the idea for Kim. Sounds like fun. I actually got an idea for Jason that I would love to see played out. Rita (or rather, her flunkies) inject Jason with a potion meant to make him Apathetic or Lethargic or whatever and make him useless to his friends. However, something happens. Either the potion is contaminated or it's the wrong potion altogether, and Jason ends up becoming very very agressive. At first, it's bad for Rita since he goes to town on her goons and defeats them all easily. But, soon enough, it turns to her advantage as Jason actually becomes a threat to his friends. I'm thinking that, at one point, he makes advancements on either Trini or Kim, which Zack interupts. It would be at that point that they start to realize that Jason's strange behavior, which up until then they thought was restless energy, is not simple restlessness and that something is actually wrong. The potion, I'm thinking, is triggering primal instincts in Jason and is making him seriously dangerous. More animalistic and stuff. what do you all think?
Space Black Ranger - June 23, 2009 01:12 AM (GMT)
That has interesting potential and Jason would be the ideal target. The only thing I can think of is unlike the original show, Rita and Goldar do not know the ranger's identies yet. If they do, I think they should do the logical thing and go after them in civilian form like when they are asleep in their bedrooms. There was an episode of Captain Marvel from the 80s where that happened and the villians caught them unaware in their sleep. That too might make an excellent episode in our game. I don't know when we want to have that happen.

Rita could always cast a spell on the red ranger morphed in battle to make this work. What does everyone else think?
Legends Black Ranger - July 22, 2009 11:37 PM (GMT)
I don't know what plot we are going with next but something should definitely happen before 4:30 the next day that pushes all 5 of them to accept (and use their powers one more time) before they meet up with Zordon.
Legends Goldar - August 26, 2009 09:23 AM (GMT)
Putty attack?
Or perhaps just use their powers to be able to save regular civillians from a disaster of sorts? Burning house?
Legends Pink Ranger - August 26, 2009 09:33 AM (GMT)
Hmmm....What about a combination of the two? Say that even if it was accidental one of the putties tripped over something that sparked the fire.
Legends Yellow Ranger - August 27, 2009 03:45 AM (GMT)
Legends Pink Ranger - August 27, 2009 08:02 AM (GMT)
Legends Pink Ranger - September 18, 2009 10:46 PM (GMT)
Thought that I would elaborate more on the idea. The putties are sent in hopes to weed out the Power Rangers by attacking a ceremonial event or block party. Now we all are aware that the putties are not completely mindless creatures, what if during the attack say one (or a group) destroy a power converter during some point of the fight. The severed cables pose a problem when they come in further contact with something flammable mounted against the wall. Either that or maybe the cables drop into an open trash bin, which spreads engulfing the side of the opposite building. This was my thought I had brought up with Dan, but since, have added to it.
Legends Goldar - February 25, 2010 01:35 PM (GMT)
Small suggestion for a Goldar sideplot for in a few episodes.
What if a Monster like Nasty Knight or another rival defeats Goldar and temporarily takes his place, with Goldar later on reclaiming his spot through combat?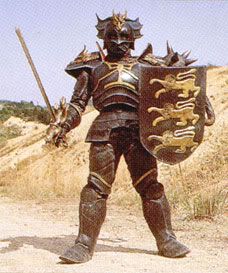 Legends Black Ranger - May 6, 2010 01:02 AM (GMT)
Sorry I hadn't responded sooner and this sat for 2 months without comment. I like your idea and it would flesh things out. I think if we have players that are doing villians they need a story behind the scenes too. A power struggle off stage would be a good sub plot to keep you involved. My only comment is we should try to avoid silly names and the campy stuff that Power Rangers had in the show. Use the same character but give him a better name than "Nasty Knight". My take on this game is it a more realistic and mature take on the Power Rangers that is closer to real life. Think Heros or Smallville. I don't want to see the game get completely dark but I'd love to see it take on a darker tone like the X-men movies for example. At some point I think the bad guys should discover the rangers identities. Rita knew who they were in the show and where they lived. Why not teleport in and kidnap them or kill them? The obvious answer is because it was a kid show and that would be scary. But maybe as we get a little further in we could do something like that. I have some ideas and would like to flesh some of this out.
Tim - August 23, 2011 04:16 AM (GMT)
how about a ranger team up in space and MMPR!!
Ranger X - August 23, 2011 05:58 AM (GMT)
if you mean teaming up our two games unfortunitly it wouldn't work cause our games are in their own continuites and at the moment the Space rangers wouldn't exisit in Legends.