Title: [D]Beyond Bionis | magitech fantasy | Jcink
Description: Xenoblade | canon newbies welcome!
Copper - December 23, 2011 10:10 PM (GMT)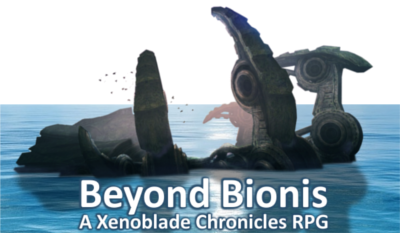 [HOME] | [RULES] | [FAQ] | [NEWBIE GUIDE] | [ADVERTISE]
A great war is over. The gods are dead. The world begins anew...
The gods and the land were one and the same, but now the gods have fallen, and the former inhabitants band together to build themselves a new home within the shattered remains of their world. Freed from the demands of their old gods, they begin to look outwards and wonder - what lies beyond that seemingly endless ocean?
Beyond Bionis is a freeform play-by-post forum RP based on the JRPG Xenoblade Chronicles. Set after the end of the game, join the former inhabitants of the Bionis as they carve out their destinies in this new world!
*
Magitech fantasy
- we have
airships
, a race of
mechanical people
and
magic crystals
!
*
Open, collaborative world
with a plot focused on
exploration
- work together to decide what our characters will find next!
*
No word count!
*
No knowledge of canon necessary
- all the information you need is on the site!
* Plenty of
open canons
, and lots of space for
OCs
!
MELISSA DOESN'T EVEN GO HERE - December 23, 2011 11:06 PM (GMT)
YOU HAVE BEEN ACCEPTED TO THE DIRECTORY !


thank you for advertising at caution
and for following the appropriate rules!
Copper - January 1, 2012 07:04 PM (GMT)
Copper - January 11, 2012 08:54 PM (GMT)
Open 3 weeks today! We've got our first real exploration plot brewing too, so come and take a look! :D
Copper - January 19, 2012 08:00 PM (GMT)
2 days 'til our first monthiversary and we have a couple of fun little updates planned for that, so come check us out!
Copper - January 28, 2012 09:17 PM (GMT)
Our ad has been updated and we're now one month old! We've added a random event feature and a member awards system to celebrate and we'll soon be kicking off a sitewide plot, so come say hi!
Copper - February 6, 2012 03:53 PM (GMT)
We've recently made a bunch of changes that should make us even easier to jump into, so come take a look!
Copper - February 14, 2012 07:36 PM (GMT)
We're still here! We're still awesome! We're still looking... For you!
Copper - February 21, 2012 05:24 PM (GMT)
We've now been open two months and we're kicking off a brand new plot event for everyone to enjoy! There's a dangerous monster stalking the town, and it needs dealing with...
MELISSA DOESN'T EVEN GO HERE - March 26, 2012 11:11 PM (GMT)
this site is not active anymore, or this advert hasn't been bumped in a long period of time. it is going to be moved to the dead sites board, if you would like it re-opened please pm a mod or admin.