Title: Population Count
Description: endangered species
socorro - June 10, 2012 08:40 PM (GMT)
Two related questions.

1. Does anybody know of any resource that lists the number of each LP pressed in various countries? I would be especially interested in the LPs/countries where we know the number is low (e.g., just how many copies of the two Finland LPs were ever made?)

2. Does anybody know of a resource that lists the number of known surviving copies of the superinsaneimnotkiddingforrealzz ultra-rare LPs (e.g., the two Iranian bootlegs, Egyptian Abbey Road, legally pressed Thai Parlophone LPs, etc.)

I think it would be illuminating to see which records are really the scarcest.

Some of the most sought after LPs would likely be surprisingly far down the list. The common wisdom is that there were 900 stereo copies of B&G PPM, and a similar number of stereo version 1 Introducing the Beatles, but I bet there are lots of LPs that were sold in much smaller numbers.

I'm not as much concerned with rarest variations or pressings (although that is also interesting, as you can see with PPM and Introducing), but rarest LP period. The ones I'm thinking of were produced in such tiny numbers that there will generally be only one variation, and often only one pressing.

My second list would also depend on attrition rate. For example, one reason there are so few surviving examples of the Iranian LPs is that after the Islamic revolution in the 70s, western music was declared subversive. The government did not merely order production to cease, it also had the religious police confiscate and destroy existing copies. I would assume most of the surviving copies had already left Iran by this time, because only the most dedicated fan would risk reprisals against himself or his family by an all-powerful, capricious, and deranged theocracy in order to protect a phonograph record, no matter how cherished.

Anybody know of anything like either of these lists?
servi - June 10, 2012 09:03 PM (GMT)
Don't think such list exist, so it may be a good idead to start one !
Concerning the Egyptian Abbey Road, I know of 3 copies, all sold by someone I know from Egypt (Hany Zaki). The last copy sold for $1500 or somewhere in that range. They also pressed a Wings at the speed of sound, which I have (EMI Sono Cairo) and must even be rarer because demand was probably lower for a Macca record. Turkish LPs are also very rare, I have Abbey Road and Hey Jude and even found a label variant of AR at a record fair some years but it was too expensive (300 euro). It may proof there was a second pressing. Thailand pressed a Help!, it has been in Tracks's sales list for several years for GBP 1500, maybe they still have it for sale.
Some years ago I found a 2 box EMI pressing of Rubber soul, made in Croatia by Croatia Records Zagreb. I know it's not in the league with 1960s pressings, but still a rarity and I never found a second LP from Croatia nor a second copy of Rubber Soul. Do you know of any other Croatian pressings, socorro ?
Finland issued Oldies, Pepper and 20 golden hits (Finnish cover only, Swedish record). Oldies and Pepper may have been pressed in a few hundred copies. Pepper was released also with the wrong PCS7022 release number on the label. Saw it once (compared to zillions of gold PPM).
Norwegian LPs are also very hard to find, with a few hundred pressed at max. The gold label Help! is one of the rarest on the planet possibly.
Dominican Republics are hard to find (never seen a 1960s pressing though, only 1970s pink Odeon labels). I have a Let it be and Sgt Pepper.
The Bolivian Help on red vinyl is one you will see once in your lifetime (if you are lucky). It's on yellow Odeon BOLP-227. Sold some years ago on Ebay, still regretting I didn't bid high enough.
Any LP from Costa Rica is rare. They have superb red Odeon dome labels. It had about 3 million people in the 60s of whom many did not care about los Beatles.
Concerning the Iranian LPs, indeed these are pirate releases, which IMHO are not that interesting. Inferior concerning sleeves and labels and unauthorized by EMI, but rare nonetheless.
socorro - June 10, 2012 10:25 PM (GMT)
I didn't know of ANY Croatian pressings until you mentioned it today. Another million-to-one long shot for my want list.

I have Costa Rican pressings of Beatles Second Album and Beatles For Sale. I agree, the red odeon label is pretty sweet. Plenty of the latin american countries had the same style, but the closest I've seen to that color is some of the labels from Chile (most of them are more a burgundy color though). They are definitely prized, inner circle items, even though my copy of Second Album is in REALLY rough shape. About 25% of the cover is masking tape (at least it was neatly applied) and the label has a fair amount of writing on it. Beatles For Sale has some laminate loss on the cover, but the disc is in surprisingly good shape.

I bid on a Norwegian copy of Revolver on the black & silver old fashioned parlophone label, but lost. I think it went for about $150. Stupid Socorro, bid higher next time. You mention the B&G Help!, but I would love to find HDN or Beatles For Sale on the purple & white old fashioned Parlophone/Odeon even more.

I never heard of the Bolivian Help! on red vinyl. The impossible just became impossibler.

I'm mildly surprised you were able to find two LPs from the DR. Speaking of tiny impoverished countries with little cutural affinity for the Beatles.

Considering how well the bootleg EPs sold in Thailand, I'm surprised there weren't more legitimate records from there. The Thai EPs were something of a bargain, because they typically included 6 tracks instead of 4. In fact, one enterprising bootlegger managed to squeeze all 12 tracks of Let It Be onto one 7" 33 rpm record. Copies occasionally come up on ebay, and I have one. Is it more accurate to call this an LP or an EP?

The first three danish LPs are also mighty scarce. I'm pretty sure Denmark used the B&G label on more LPs than any other country (PPM, WTB, and HDN). I would love to find HDN on the B&G label (so would every other Beatles collector on the planet). The Hottest Hits eskimo cover gets all the ink, and it is pretty great, but the first three LPs are the true rarities from Denmark.

The easiest to find non-PPM on the B&G label is the Australian WTB. It isn't a dime a dozen, but you can generally find a decent copy every 2-3 months on ebay. I have a VG+ copy and a pretty rough copy (G if you're feeling generous). It has the added virtue of that great Australia-only cover.
namralos - June 10, 2012 11:45 PM (GMT)
I have been searching for a replacement copy of the White Album from Nicaragua since 1980. Since then, I have seen only TWO other copies. The conditions were not well described, but they were not in great shape.
Love the label, though.
The Costa Rican red label is also very cool.
First of all, I'm only interested in records that came out relatively contemporary to their releases in the UK. Records from iron-curtain countries, for example, which came out later don't have the same level of interest for me. Also, records of questionable legality or quality (e.g., the releases from Korea, Taiwan, and Iran) also do not interest me.
That said...
Other records from faraway places that I think are rare:
Big Beat of the Beatles from South Africa (PMCJ 64). You come across these now and then, but they look like a truck ran over them. Try to find a "near mint" one.
Most LP's from Turkey on the silver label. Please, Please Me is the only one that turns up with any regularity.
The famous "Eskimo cover" album from Denmark, Hottest Hits (Parlophone PMCS 306) and its Swedish equivalent (same catalog number) are tough to find in nice condition -- although beat-up copies do surface.
Beatles Vol. 2 (Odeon LP-12-19085) and Vol. 3 (LP-12-19086) from Ecuador on the red label.
Surfin' con los Beatles en Accion (Odeon OLP 382) from Venezuela. Not the hardest possible record to find, but it's a unique compilation -- which I like.
The Mexican boxed set from 1964 (Musart D-998) -- which also happens to be the FIRST BEATLES BOXED SET worldwide. This thing is undervalued; that's for sure. The Mexican releases of the earlier LP's in stereo on the rainbow label are fairly tough, too. This includes the Musart "No. 5" in stereo, but I'm mainly referring to the Capitol albums that were released in 1965-6.
Several of the Greek albums. The "prized" one is Rubber Soul with the champagne-glass cover (Parlophone PMCG-5), but none of the PMCG series is easy to find.
Red-label copies of the Italian "Beatles in Italy" (Parlophone PMCQ-31506) are tough to find with the cover in nice shape.
The Beatles in Italy from Israel on the black/yellow label is also tough, but the FAKES are easy to find.
The German Something New album in MONO is tough (Odeon O-83756).
Also from Germany, the first album on Hor Zu in MONO (Hor Zu HZE-117), with the original back cover saying that stereo and mono are not compatible, is also tough to find...particularly in nice shape.
Beatles Story (Historia de los Beatles) from Chile (Odeon A-2002 = LDS 36914/5) is the hardest to find Chilean release.
The Brazilian Beatles For Ever LP in MONO (Apple BTL-1017) from 1971, but the stereo release (SBTL-1017) is easy to find.
You won't find many Canadian MONO copies of Meet the Beatles (Capitol T-2047) or Second Album (Capitol T-2080). These records came out in 1968, and some fans say they were only available in mono through a record club.
Tough USA pressings...
Introducing the Beatles (Vee Jay VJLP-1062). All-black label with SMALL brackets. The labels list "Love Me Do" and "PS I Love You," although the songs are not on the record. One genuine copy has been confirmed with this label on side one, and another with the side-two label; no copies are known to have both labels.
Meet the Beatles with large promo banner. These copies were given out to the press corps in February, 1964, when the band first arrived in the states.
Help! -- mono reissue with the mono catalog number at the TOP of the spine instead of the bottom. c. 1968. Only one copy known.
Yesterday...And Today on the red label from 1971. Fewer than 5 known copies.
The White Album, pressed in Scranton with stamper numbers less than 33 on all 4 sides. These copies were compressed and limited by Capitol. When George H. found out about it, he ordered them destroyed. Less than a dozen copies are known, but there could be more.
Abbey Road from Winchester, VA, with the "Capitol logo" label and WITHOUT "Her Majesty" on the label. Only a few copies known.
Capitol Record Club issues of Beatles Second Album (ST-8-2080) and Beatles VI (ST-8-2358) are much harder to find than any of the others. They turn up maybe once every few years.
Decade Boxed Set from 1974 containing Apple copies of the Beatles albums. Less than 10 known copies.
Special Limited Edition boxed set from 1974-5. Less than 10 known copies.
socorro - June 11, 2012 02:19 AM (GMT)
Namralos: you just named a bunch of my most prized/most coveted albums.

For starters, that's the label style on my Nicaraguan pressing of the white album. According to our friends at popsike, it also came out on orange Odeon and Apple. The discs one that album were in surprisingly good condition -- a few light scuffs and a couple of superficial scratches, lots of gloss, immaculate labels.

I generally agree about contemporaneous releases. I make a few exceptions, though. For example, I like the Guatemalan and Panamanian pressings on lime green Odeon even though they are from 1977. I also like the Swedish record club Golden Greatest Hits from 1979.

The one post-1970 release I would most like to own has to be the one from the Diesterweg music education series for german schoolchildren Musik Zum Mitmachen. I sure would love a copy of that.

I agree 100% about the iron curtain stuff. The only LP I really want is the green bagpipe cover Amiga released in East Germany in 1965. The stuff from Romania, Yugoslavia and Czechoslovakia holds no interest. The Polish double EP does nothing for me (probably the worst Beatles sleeve from anywhere, except maybe the Romanian LPs, which really sucked too). I would like to find some of the Polish flexi postcards though.

I have a bunch of the Antrop LPs for sheer entertainment value. It was a pretty audacious move to insert himself and his Russian collector friend on the cover of Sgt. Pepper. Not to mention that the cover of my Antrop Rubber Soul is made from a recycled topogrphical map. Ithought the seller was pulling my leg, but sure enough, the interior of the sleeve is a map.

The one soviet pressing that is in the inner circle is my copy of Musical Kaleidoscope No. 8, issued in the USSR by Melodiya in 1967. It is a 10" various artists compilation with one Beatles track "Girl." This was the only legally released Beatles music in the USSR while the group was still together.

As for the other albums you mentioned:

I love the Big Beat compilation, and have a black & silver pressing from S Africa and a midnight blue & silver pressing from S Rhodesia. Not mint but not run over by a truck -- and I know exactly what you're talking about. I've seen lots of copies with hunks of cardbaord missing from the cover. My copies are probably VG- (SA) and VG (rhodesia)

Turkey: The only Odeon LP I am aware other than PPM is Rubber Soul. I would say the Apple release of Abbey Road is the most common legal Turkish LP. The apple pressings of Let It Be and Hey Jude ae far rarer. Would love to have all of them, so far I only have PPM.

I like Hottest Hits but think the market it for it is way too inflated. As noted above, I'd much rather have a copy of the danish Hard Days Night on the B&G Parlophone label.

Ecuador: Now you and I are speaking the same language. I am hot to trot for any of the first six LPs, but Vol. 2 and Vol. 3 on an entirely different level. They have attained mythical status in my mind. Would trade any five LPs in my collection for those two in G+ or better with their covers.

Surfin Con Los Beatles En Accion: pure distilled essence of awesome, marinated in awesome sauce, with an extra side order of awesome. Best Beatles LP title ever, best label style ever, unique track list, great twist on the iconic Angus McBean photo. Absolute killer LP.

Mexico: I'm a huge fan of the Musart LPs. The box set is pretty special. If you find a copy, make sure the discs say sides 1, 2, 3, 4, 5 and 6. If Vol. 2 or Vol. 3 in the set says side 1 and side 2, it was probably swapped in from the individual LP.

Yeah, I'd like to find an ED-1018, the stereo Musart Vol. 5. It was only out for a couple of months before Capitol Mexico took over, and is the only Musart Beatles release in stereo. I have a decent contact in Mexico, and he tells me my chances of finding a copy are up there with the one-legged man's chances of winning the ass-kicking championship.

The biggest surprise to me is just how hard it is to find the Capitol Mexico releases of the first five albums on the black and rainbow label at all, let alone in nice condition or in stereo.

The only ones I've found are a VG- copy of Vol. 3 and a VG copy of Vol. 4. I passed up a copy of Vol. 2 that looked like it was used as a doormat, and have yet to find Vol. 5. The weird thing is that it is quite easy to find copies on greenlabel Capitol that are cheap and in VG+ or better.

Whew, that's enough for now. I'll respond re Italy, Greece, etc. in another post later.
















socorro - June 11, 2012 03:48 AM (GMT)
OK Namralos, I'm back for round 2.

I effing love the champagne cover Rubber Soul. I've bid good money on copies that were inG+ or VG- condition, and have been the bridesmaid a couple of times. They come up every few months, and I am confident a copy will eventually find a loving home with yours truly. The much harder item from Greece is the circa 1970 temp cover for the stereo releases of PPM, Sgt Pepper, Let It Be and Hey Jude.

I've seen several of the PMCG releases on b&y Parlophone lately on ebay. Looks like they're going for about 80 to 100 euros.

With The Beatles PMCQ 31506, on red Parlophon -- another personal favorite. I've been the bridesmaid on several of these. I finally lucked into a copy on black Parlophon that was in such good shape I lost all desire to upgrade. The owner must have gotten it as a gift and tucked it into a drawer for several decades, Full gloss and no ring wear on that dark cover, if you can believe it. One pushed corner and a compressed spine are the only obvious flaws.

Beatles In Italy. Israel veresion. I got a nice one box black & silver for cheap, and can't see spending the hundreds of dollars needed to upgrade to a b&y in comparable condition. Nice LP but not inner circle.

German green Odeon mono version of Something New. Welcome back to the land of great LPs I really want. This is one I'm willing to wait for.

Love and have an HZE 117 copy of Die Beatles. There are 20 stereo copies for each mono copy, or so it seems, but Germany was such a huge market that copies aren't too punishing to find.

La Historia De Los Beatles: what a curiosity. Of all the US releases for Odeon Chile to press, this is probably the least logical. Apparently Chilean Beatles fans agreed, which is why it is so hard to find. This isn't a must have, mortgage the farm item, but definitely on my radar.

For my money, the hottest ticket from Chile is the White Album, which is actually two albums and not white. I have a copy of Vol. 1 with condition issues (it is out of its original plastic, so I just have the pieces of the cover in a poly sleeve). I'd love to find a better copy of Vol. 1, and a copy of Vol. 2. I'm actually surprised at how few Beatles items are offered from Chile on ebay.

Brazil: The mono version of Beatles Forever was promo only, which explains the scarcity. I'd like a copy, but not a must have. The only Brazilian LP that really compels me is Twistin', which is identical to the German My Bonnie except for the title. I already have the MOFB LPs, which are awesome and were printed in large enough numbers to be findable and affordable.

Canada: Meet the Beatles and Beatles Second Album are hard enough to find in stereo on the rainbow band label. Mono is just overkill. The canadian LP I'm still looking for is The Early Beatles on the rainbow band label. Capitol Canada did not release it until shortly before the green target label debuted so it is tough to find.

Most of the US items you mention come under the heading of "variations" which is not really my thing. I would like to fill out my record club releases on blac,k rainbow, so far I have Meet The Beatles and Revolver.

Beyond that I would like copies of the ad back and blank back Introducing The Beatles. Since I'm wishcasting, I would also really like an Ifield portrait cover.

I have no wish for Jolly What! It isn't all that rare, it is really unattractive, and it is expensive. Pass.

I'll probably eventually buy a butcher cover, but my thoughts on it are pretty close to George Harrison's (stupid and gross). With the exception of the first state copies, it isn't even especially rare. I think the prices are ridiculously inflated and will only buy it if a copy falls in my lap at a rock bottom price.



Baard - June 11, 2012 07:33 AM (GMT)
QUOTE (socorro @ Jun 11 2012, 12:25 AM)
You mention the B&G Help!, but I would love to find HDN or Beatles For Sale on the purple & white old fashioned Parlophone/Odeon even more.
Ahh, you mean this one :P
I love the glossy look on this on even more:
servi - June 11, 2012 08:55 AM (GMT)
Here's some of my collection, would love to see your rarities !!!
Barbados
(a country with 250,000 people.....)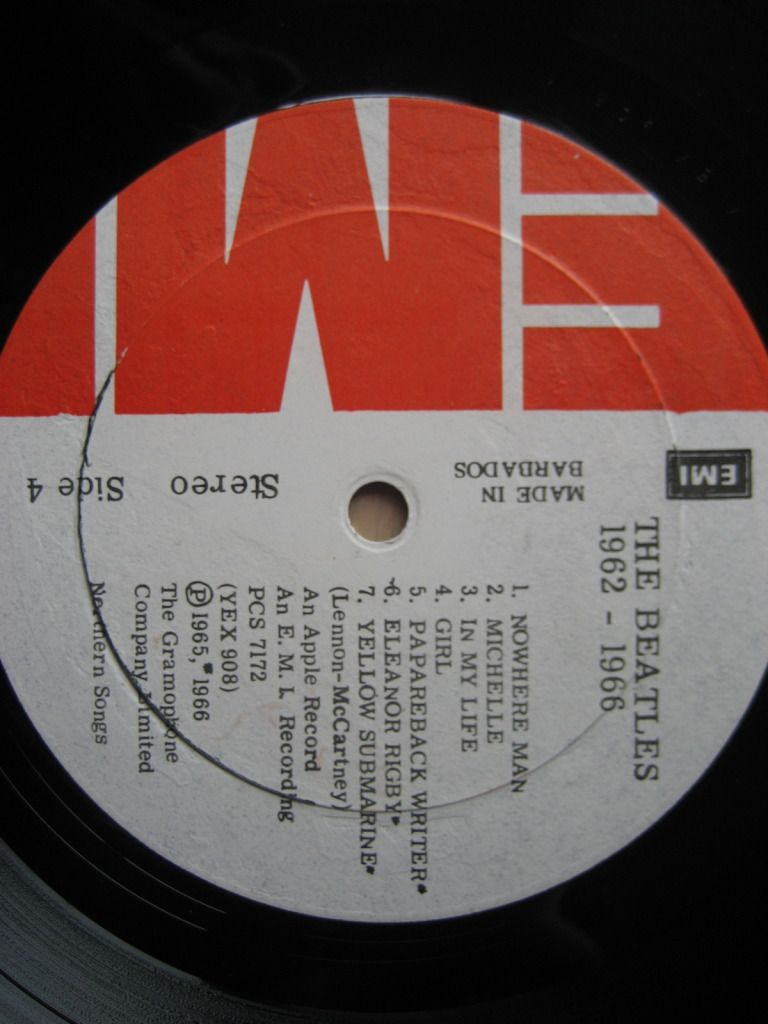 Costa Rica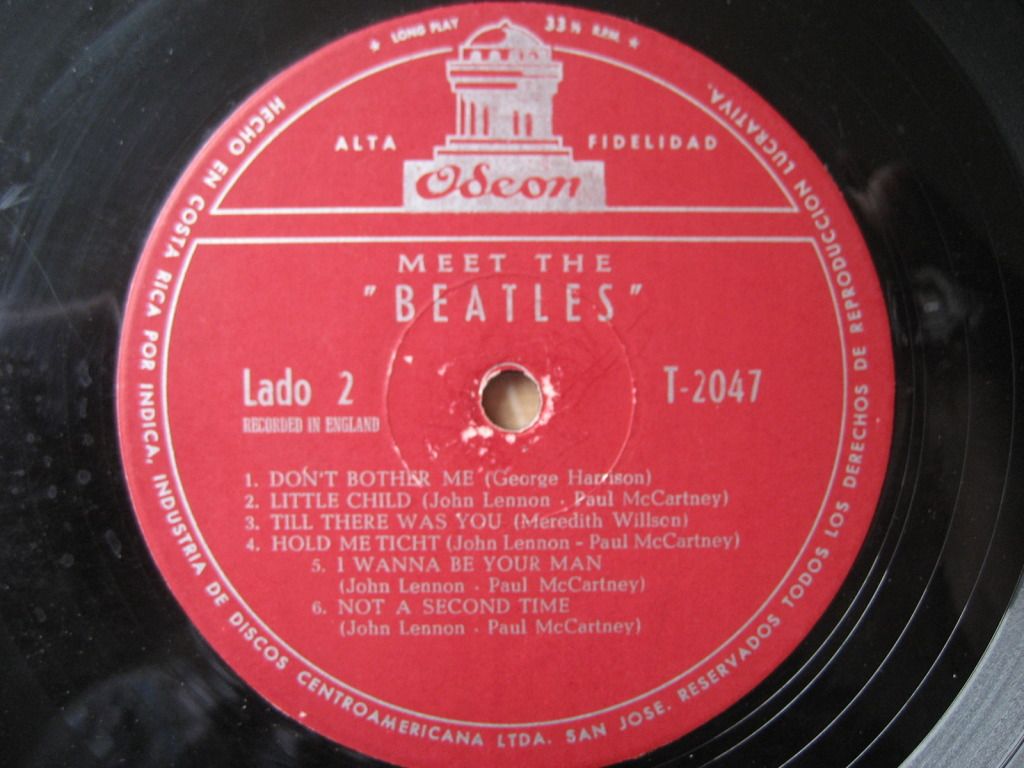 Kenya
(black vinyl :D )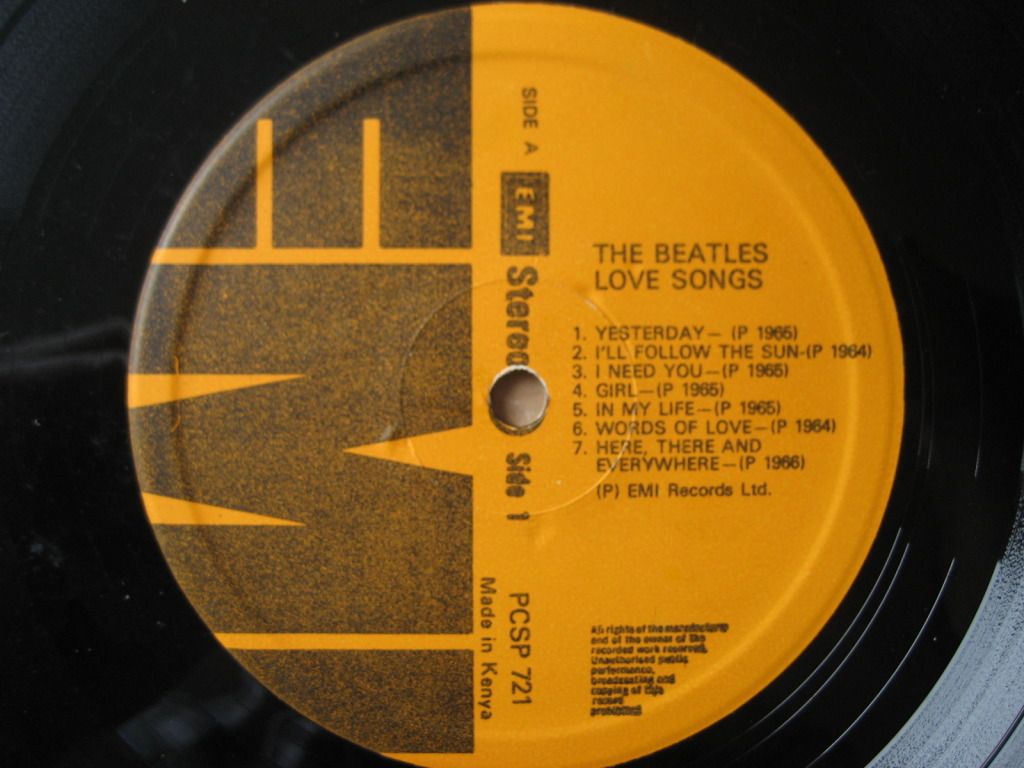 Turkey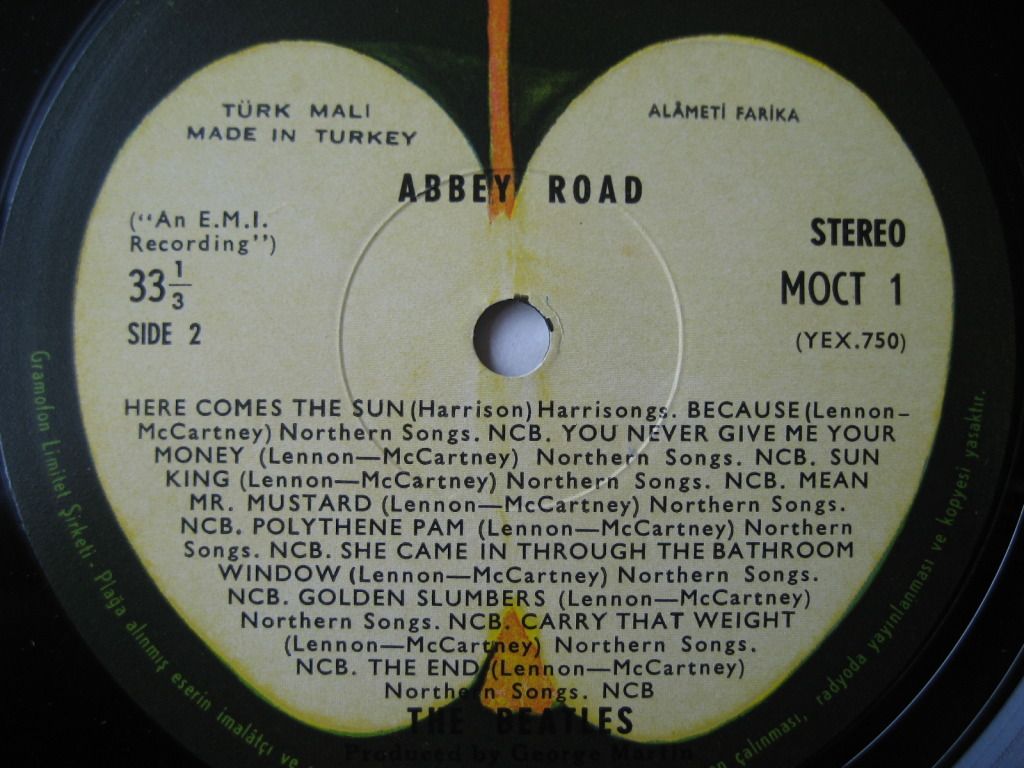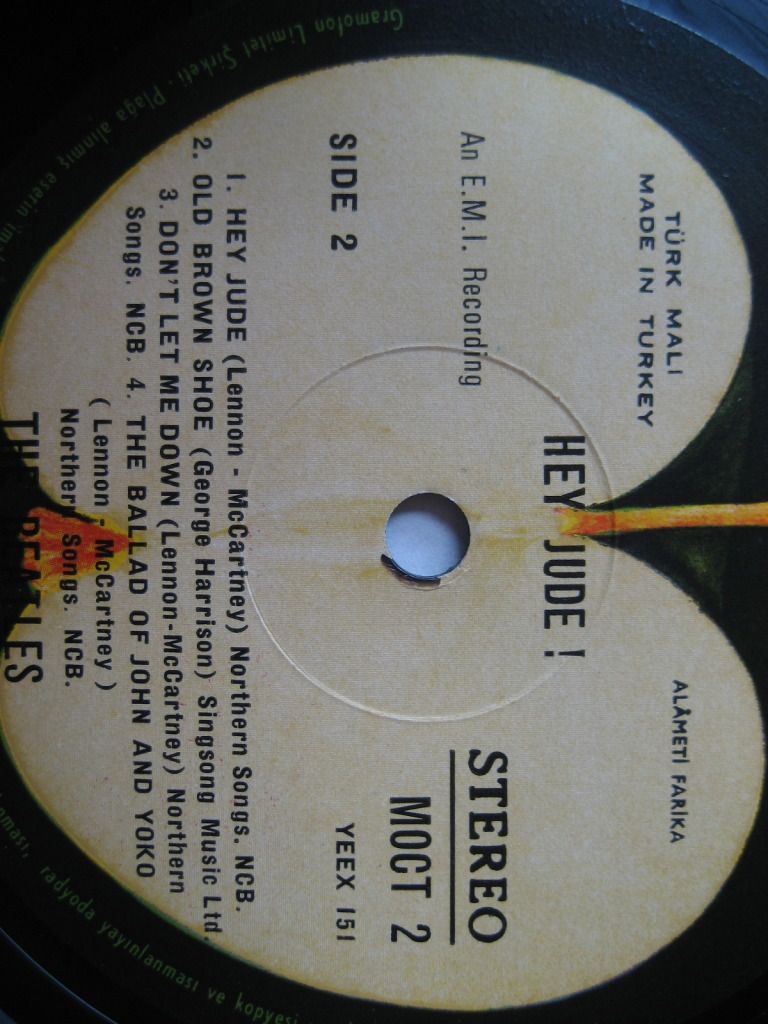 Dominican Republic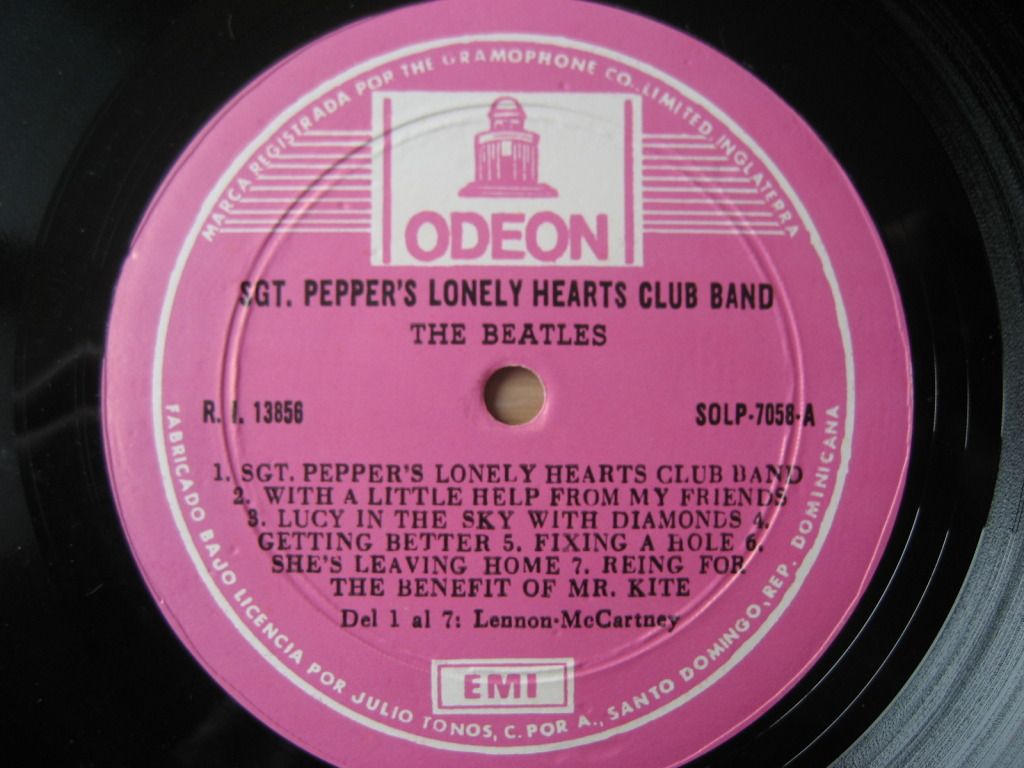 Nicaragua
THE BETLES !!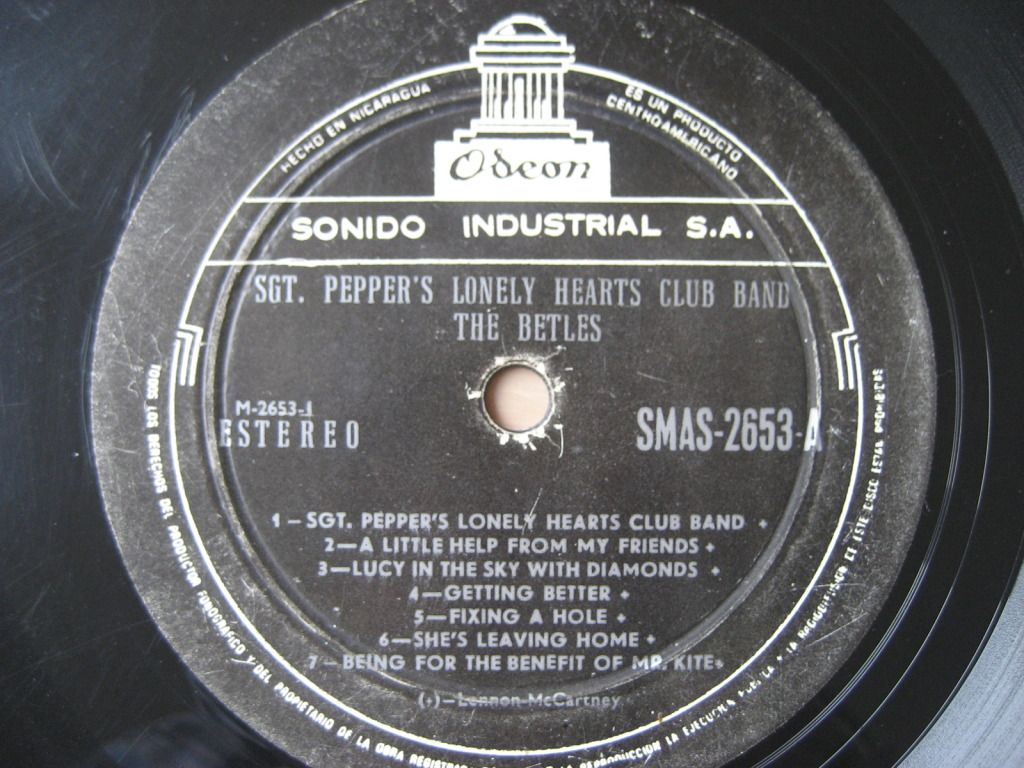 Mocambique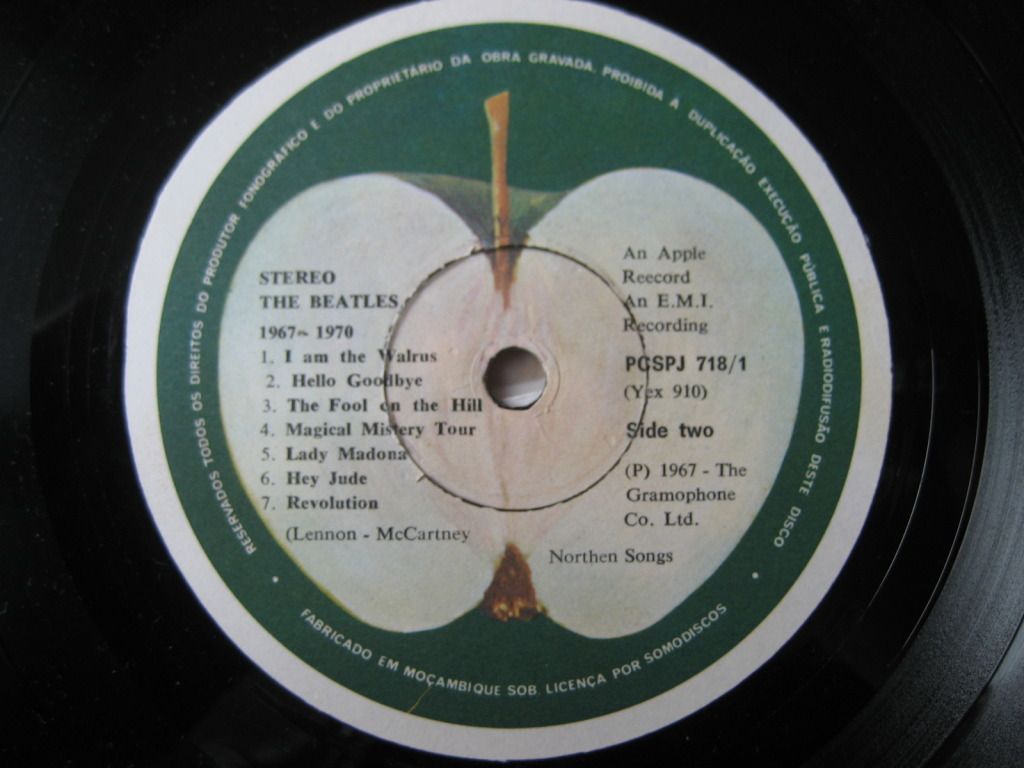 Panama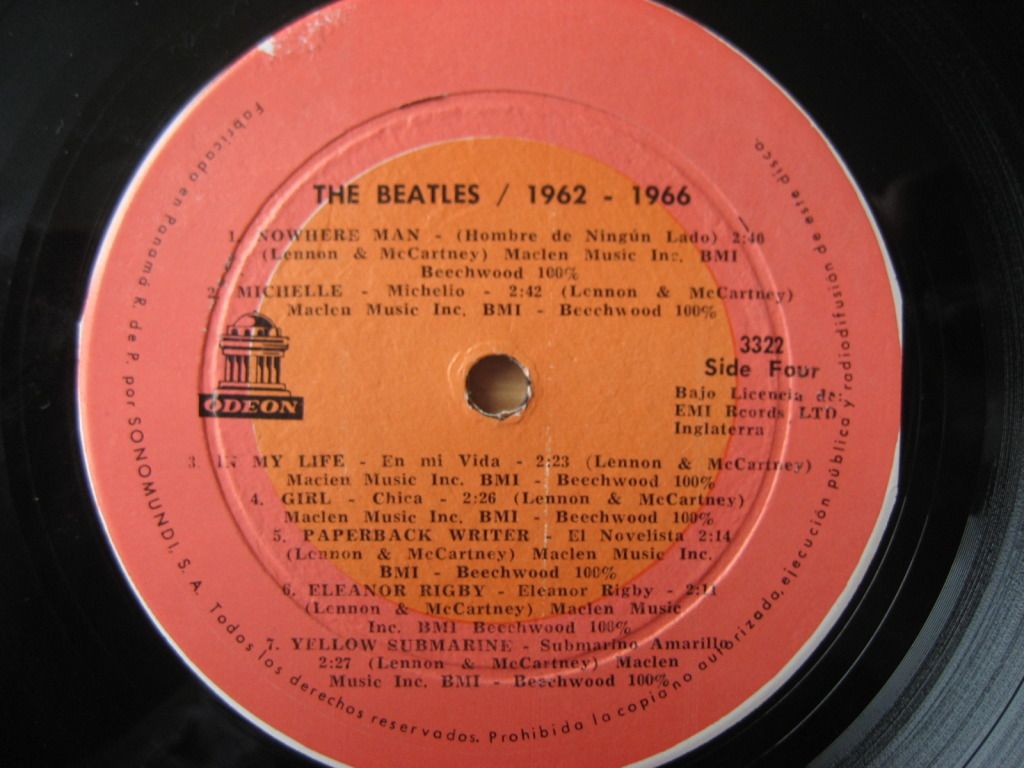 servi - June 11, 2012 08:55 AM (GMT)
Israel
(Harvest label)
Croatia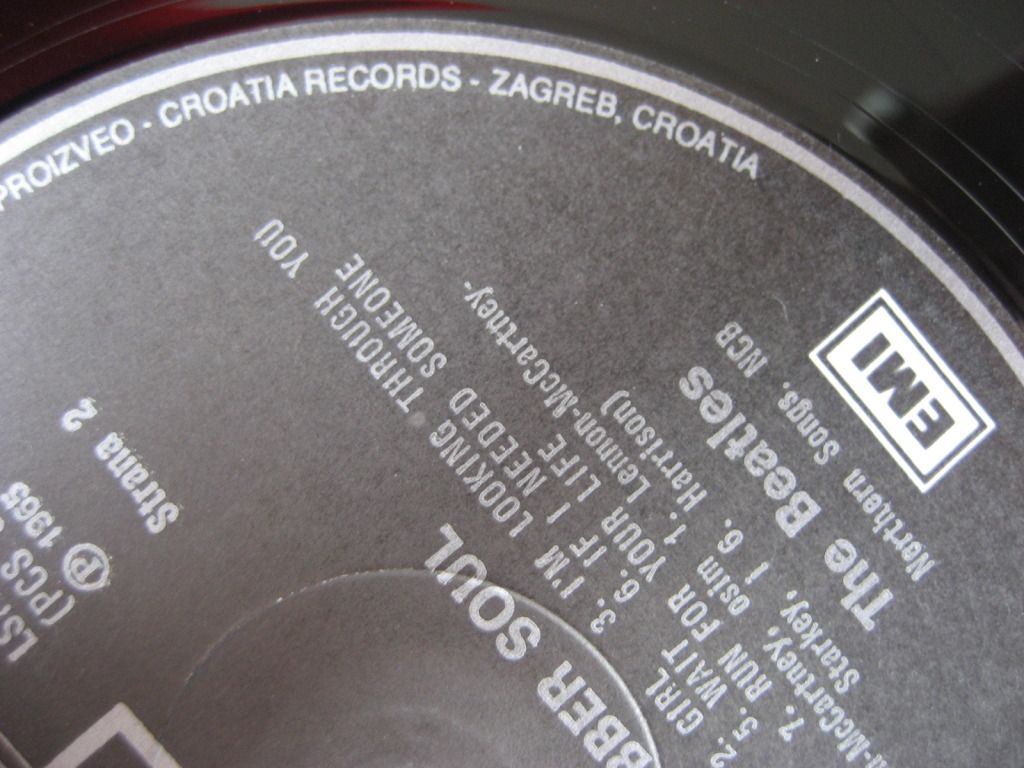 Bolivia (the Help! on red wax is not mine unfortunately, it´s taken from Ebay'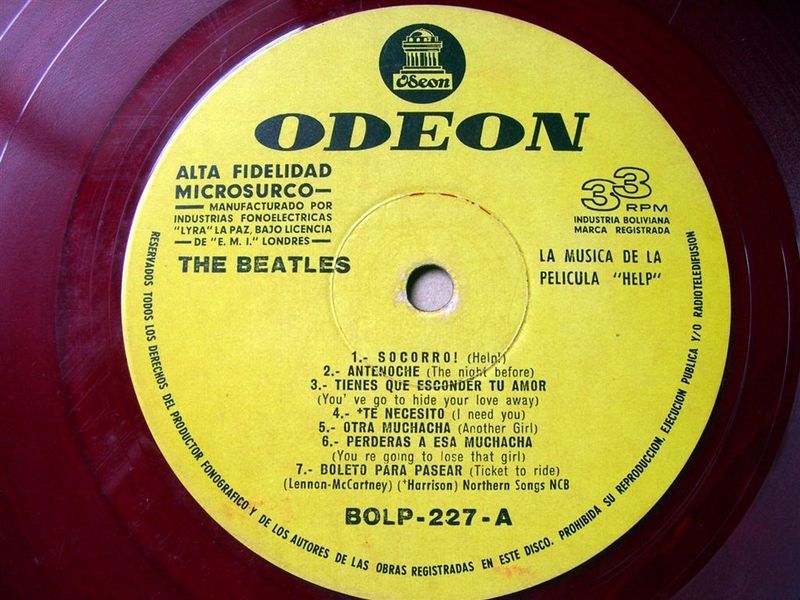 servi - June 11, 2012 09:10 AM (GMT)
Baard, great records !! The rarest Norwegian is the gold label Help, isn´t it ? If I remember well, it was discovered just a few years ago...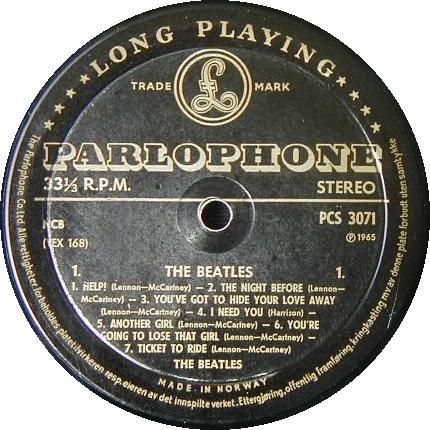 Baard - June 11, 2012 11:46 AM (GMT)
I'm not sure Servi! It may well be so, but I canot remember being surprised seeing it for the first time...
It has been listed
HERE
for some time...
If you want to splash out £120 you can get it here:
Norwegian Black/Gold Help
socorro - June 11, 2012 03:33 PM (GMT)
Stop it, you're killing me. I'm at work, and now I need to change my shirt because I was drooling so hard.

Seriously, that is some outstanding vinyl.

The Norwegian purple & white Parlophone/Odeon label is killer. I'd love to have a copy of that one.

I bid on a copy of the 1967-1970 compilation from Mozambique (or was it 1962-1966?), but got buried. I think I maxed out at about $75 and it went for about $140.

The pressings from Barbados, Kenya, Panama, etc. are cool. They're post breakup, but the fact that they exist at all is amazing -- as you note, Barbados had a population of about 250,000. The Turkish LPs are pretty great too. Nuff said about Nicaragua and Costa Rica.

Where does Harvest fit into the Israeli Beatles picture? I know the LPs were originally pressed by Parlophone, then Apple, then Parlophone again, then CBS/Portrait. Was Harvest after that, or somewhere in the middle?

Then there are the ones I had never heard of: the pink label Sgt. Pepper from the DR and the red vinyl Bolivian Help!

With respect to the Croatian Rubber Soul, I did a little poking around on wikipedia and and learned that Croatia Records is the corporate successor to Jugoton, which pressed most of the Beatles catalog in the 60s and 70s. The name changed in 1990, more or less concurrently with the breakup of the former Yugoslavia and Croatian independence.

I wonder how much of the Beatles catalog is available on vinyl from Croatia Records. On one hand, Jugoton had rights to most of the catalog. On the other hand, by 1990 when the company changed its name to Croatia Records, vinyl was disappearing and being supplanted by CDs. More investigation needed.

I'll try to post some scans when I get a chance. I think I know the stuff you'd be interested in.
servi - June 11, 2012 06:32 PM (GMT)
QUOTE (socorro @ Jun 11 2012, 03:33 PM)
I'll try to post some scans when I get a chance.
Please do ! Let's add a little colour to the forum ;) Would love to see international pressings that others have, the more obscure the better..
The Israeli Harvest is just a case of taking the wrong batch of labels IMO, a nice one to have but probably not worth much.
The only reason I can think of why Barbados pressed Beatles vinyl (beside the fact that it's good music), is maybe the tourist industry. Or who knows, maybe they found a lucrative bussiness by exporting them to Antigua, Trinidad and Guadaloupe :D They pressed a Hey Jude 7" as well (probably '68) plus I have a Jet single, an Imagine LP so it is also possible that Barbados has a hidden clan of Beatles fans.
Here
is a picture of Let it be from that country.
Croatia: socorro, you have the same questions as I have: was the whole catalogue released ? No idea, I have never been able to find any information on these pressings, maybe I will try to contact a Yugoslavian dealer from which I bought some things in the past.
Mocambique: I think it was 1962-1966 as I remember bidding as well, to get the red and blue LPs complete, but also my bid was not high enough. I got my copy for 35 euro about 10 years ago from a Portuguese dealer (I believe Mocambique was Portuguese in the past).
Socorro, have you ever seen an LP from Lebanon or Pakistan ? They issued a considerable amount of singles and it is possible in theory that LPs were pressed there as well.
And what pressings do you know from Panama and Guatamala ? I have several on yellow or light green Odeon (I'm sure you know the label, otherwise I will post them) but I believe these are early 1970s pressings. I would like to know if there are any 1960s pressings made in these countries ?
namralos - June 12, 2012 12:00 AM (GMT)
Here are some of my pseudo-interesting and somewhat colorful LP's.
Argentine original "yellow" Odeon Pops label.
Original Beatles Again (unique cover and compilation)...from Brazil.
Brazilian Beatles For Ever MONO
Chilean gold stereo label.
Colombian Beatles Vol. 5 cover.
I guess everyone must have a favorite Costa Rican LP.
Danish Eskimo cover. I also have the Swedish cover scanned.
German MONO My Bonnie LP.
namralos - June 12, 2012 12:01 AM (GMT)
The famous Greek "champagne cover" LP. Wish it were mine!
Nice Italian red label -- semi-unique compilation.
Mexican Musart label.
Original Israeli Beatles in Italy cover.
Original Israeli label.
The Peruvian Capitol LP. This label style was issued in 1958-60 in the US but wound up being issued in Peru for this Beatles LP alone.
South Africa / Rhodesian Big Beat cover
Spanish blue "dome top" label.
socorro - June 12, 2012 12:35 AM (GMT)
Mozambique: You are correct, it was a portugese colony (as was Angola) until the 1970s.
I've never heard of any LPs from Lebanon or Pakistan, and singles from there are pretty scarce too.
All I know about Panama is what is in the Maus book Beatles Worldwide I. He identifies Hey Jude and Let It Be, on the same lime green Odeon label and same catalog number as Guatemala.
With Guatemala, I have two LPs that are not in the Maus book, so I actually have something to add to our collective knowledge. My understanding is that there were no LPs pressed in Guatemala until the 70s. It appears that the catalog system in Guatemala is that the first two numbers are 33 (presumably standing for 33 RPM), and then the number of the order in which it was pressed. Sgt. Pepper is Odeon 333. If my theory is correct that means it was the third LP pressed after Guatemala Odeon adopted this system. Let It Be is Odeon 3383, meaning it was the 83rd LP pressed under this numbering system, and so forth.
Here's what I've got from Guatemala (Sgt. Pepper and MTB are not listed in the Maus book):
Sgt. Pepper
Oldies
Beatles For Sale
Meet The Beatles
Here's Beatles For Sale from Costa Rica:
And just for kicks, my favorite Uruguay temp cover:
More to come . . .
namralos - June 12, 2012 01:06 AM (GMT)
I believe the yellow label was the original Guatemalan label. I know of Meet the Beatles in a different font, where none of the song titles are in italics. I also know of a strange yellow-label Pepper where the titles seem to "run off the label." E.g., all of track 1 and part of track 2 are on one line, etc.

At the risk of repeating what someone may have posted...
I have seen ALL of these on the yellow label:
Sgt. Pepper's LHCB 33-3
Let it Be 33-83
Hey Jude 33-99
Beatles at the Hollywood Bowl 33-106
Abbey Road 33-130
The Beatles 33-145
Collection of Beatles Oldies 33-146
Beatles for Sale 33-147
Meet the Beatles 33-208
20 Greatest Hits 33-215
Some of the labels have more information in the rim text than others. "Duplication...(etc.) prohibited."
I suspect that these copies came out later.

Based on the numbering of Hollywood Bowl and 20 Greatest, these are quite late indeed.

I have also seen Sgt. Pepper on the red/brown EMI label that was used in the US in the 70's.
That MAY be the first label design.

The Guat. 45's are definitely from the 70's.
They are on target backdrops based on the ones that the US Capitol label used between 1969 and 1972.


socorro - June 12, 2012 01:18 AM (GMT)
Namralos: lots of amazing stuff there, but one really caught my eye -- is that your copy of Con Los Beatles on the Argentina Odeon Pops yellow and green label? If so, where did you find it? I've been looking for that and Por Favor on the same label.
I've got the Peru Something New on the Capitol label too. Now I'm trying to look for the transition release, with the black Odeon disc, and the gold Odeon sticker over the Capitol logo on the cover (they didn't want to trash the extra Capitol covers).
I have several Musart LPs, but not Vol. 5 (D-1018), the one in your scan. It's the hardest to find because it was only released for a few months before Capitol took over. ED-1018, the stereo version, is super hard to find. It was the only Musart stereo release.
MOCL 122 on the first style spanish odeon label is pretty rare too. They switched to the big blue and silver label shortly after it was released so only the very first copies had the old style label. I have MOCL 120 (PPM) and MOCL 121 (WTB) on the old style label, but my copy of MOCL 122 is on the big blue and silver label.
Here's my Nicaraguan White Album on black Odeon:
Wouldn't mind having that cover number on a UK pressing:
I was surprised that they printed the poster in Nicaragua:

And from the other side of the globe, here's the only Beatles recording legally released in the USSR during the 60s. It's a 10" various artists LP. Can you spot the Beatles song? "Áèòëñ" = Beatles, "Êâàðòåò" = quartet, "äåâóøêà" = Girl.
I got plenty more, and I'm sure you do too.
socorro - June 12, 2012 01:20 AM (GMT)
Sorry the cyrillic font didn't come through on my post. "Girl" is the fifth track.
namralos - June 12, 2012 01:17 PM (GMT)
Thanks for the scans. I have only half a white album from Nicaragua, and no cover. :-(
I could tell which track was the Beatles song, because I have tried to learn how to read "Beatles" in most languages where EMI put out records! You're right about that being the only Soviet release from the 60's. Then the curtain started to fall.
I think this guy is selling a yellow Argentine Odeon PPM album:
online now
If it is one, and you get it, please scan!
I have seen the "stickered" Something New LP but did not buy one. They are much scarcer than the common one with the Odeon logo, but I like the Capitol issue.
-------------------
Now if I could only get pictures of every pressing of every Beatles 78 RPM single.
socorro - June 12, 2012 04:32 PM (GMT)
Namralos:
Believe it or not, I saw that listing already. Unfortunately, it is "sello negro y letras amarillas" -- the much more common b&y Odeon Pops that prevailed in Argentina from mid-1964 to at least 1968 (with a reprise for the Por Siempre LP).
If it said "sello amarillo y letras verdes oscuras," I assure you I would have bought it already.
I have braved the hassle of buying on mercadolibre, and have gotten some bargains, including several LPs I would have otherwise been able to find only with considerable difficulty.
You have to be willing to put up with a fair amount of risk and inconvenience if you're going to buy LPs on mercadolibre. Sellers routinely fail to include pictures of the labels. Often, several different LPs are being individually sold through a single listing, so the LP you want may already have been sold (this happened to me with a listing for Surfin Con Los Beatles, which is still listed for sale even though it has been gone for months). Adherence to grading standards is often haphazard. Few sellers accept paypal, so you need to go to the trouble and expense of doing an international money transfer. You can't contact sellers directly, but must instead publicly post your queries on the listing, and the webmasters are even worse than ebay when it comes to zapping email addresses. You need to re-register if you want to buy from certain countries (I had to register separately to buy from Brazil and Costa Rica, although my initial registration covered Chile, Argentina, Mexico, Peru, Colombia and Uruguay).
Then there's the expense and delay of shipping from latin america, although that is the fault of the postal services not the site (the only straight-up non-delivery I have had to deal with to date was a group of LPs from Chile that I "won" on ebay but have never seen. The seller didn't respond to emails and, out of a misguided sense of fair play, I waited too long to complain to ebay so I was stuck with the loss :angry: ).
But the rewards can be considerable. I have scored LPs from Mexico (well-above-average copies of Musart Vol. 2 and Vol. 3), Peru (the Capitol Something New), and Chile (Otro De Los Beatles and White Album Vol. 1) that are really difficult to find, and I have bought others for a fraction of what they usually go for on ebay (very nice copies of Beatlemania, Beatles Again, Help!, and Beatles '65 from Brazil, an only-okay HDN from Chile, super clean black & rainbow Capitol EPs from Mexico, and a nice copy of the earliest release of Help! from Uruguay without the red lettering at the bottom of the cover).
So, two cheers for mercadolibre, with a side order of razzberries.
I would have jumped all over the stickered Odeon Something New from Peru. Much less interest in the non-stickered Odeon, on either the black or black & blue label.
Don't get me started on the Beatles 78s. Seriously, don't. I plan to eat and pay a mortgage for the foreseeable future, and those babies can drain a wallet mighty fast. If I had to pick just one, though, it would probably be the lone pressing from Argentina, which was on the yellow and green Odeon Pops label (say, have you ever heard of that label?), sold out in about a month in early 1964, and was never repressed. Odeon went exclusively to vinyl 45s after that. The Colombia 78 is probably rarer and is an interesting variant of the tricolor label, but that Argentina 78 is the bee's knees.
There's a web site dedicated to the Beatles 78s that you may have found, but it only has pictures for about half the 78s released in India and the Philippines. It does have pictures of the Argentina and Colombia 78s though. Here's the link:
http://www.cool78s.com/
I'll be posting more scans later. Coming up: White Album Vol. 1 from Chile and the Japanese red wax PPM with the original Odeon obi.
servi - June 12, 2012 06:52 PM (GMT)
Socorro, namralos, this is a great thread ! Keep 'm coming, especially the obscue ones that many don't know about.
Something unbelievable: I found a label variant of the Costa Rican For Sale !!!!! Socorro, your copy has "Beatles for sale", mine is missing the quotation marks. Yours has "recording first published on the left, mine on the right. Those Costa Ricans do everything to sell more vinyl :D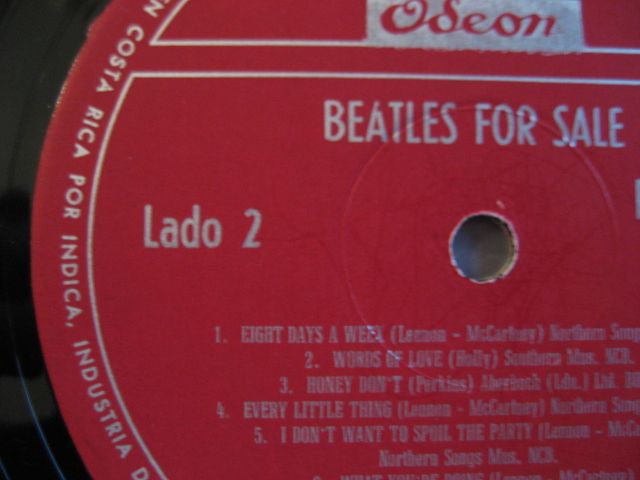 Concerning Guatamala, namralos is right about a second label for Sgt. Pepper. I have this record and also a yellow label Panama pressing which resembles the Guatamala pressing very much. Interestingly, sleeves for these Panama pressings were made in Guatamala, but one of the three sleeves I have, has a Costa Rica sticker, indicating LPs were sold there as well.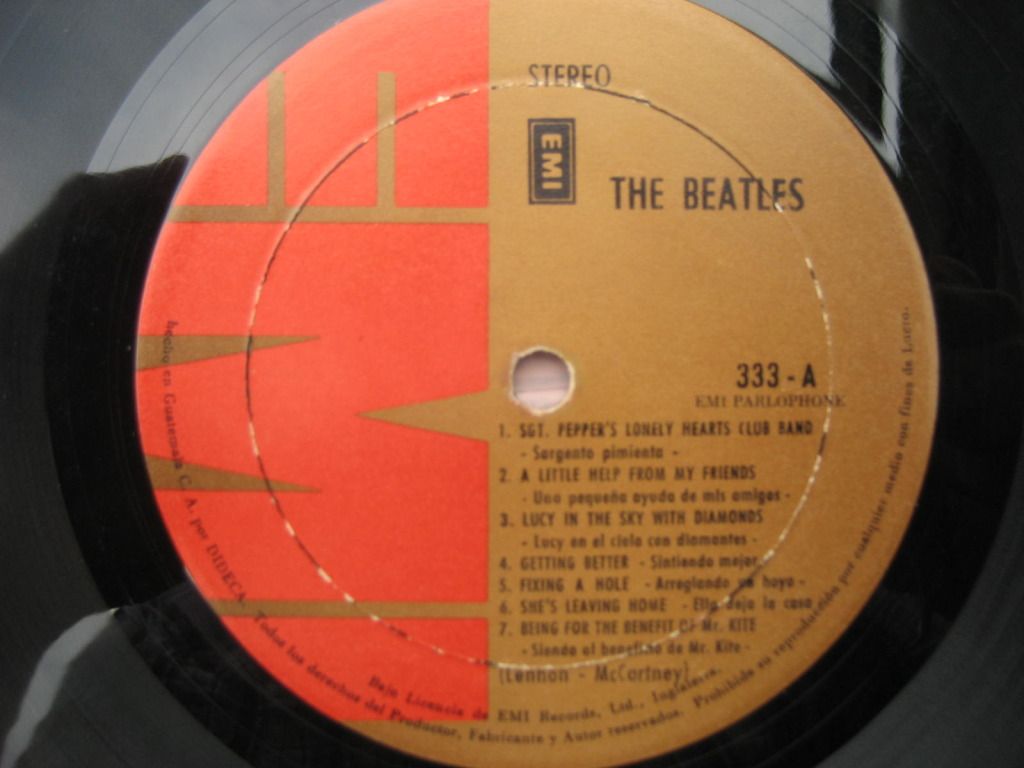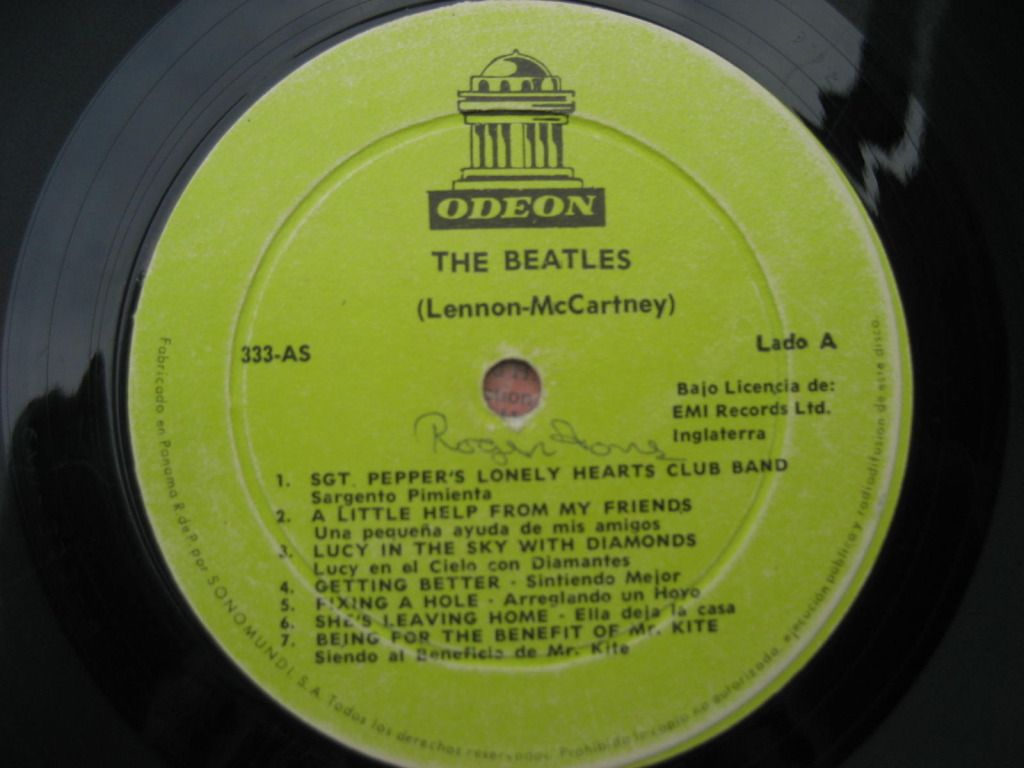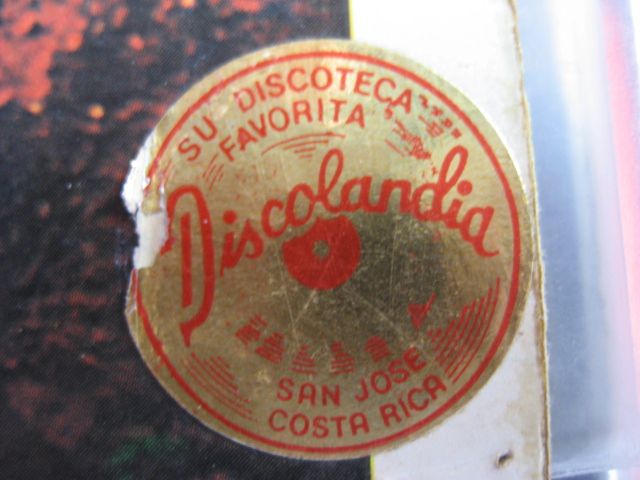 Furthermore, there is something strange with the Guatamala Pepper sleeves: the front is directly photographed from a US sleeves, but no copies are identical, they slightly differ (except for the wear on the original US sleeve that was photographed). Furthermore, on the back side The Beatles are in mirror image, while the text is normal. How they did that puzzles me till this day. Anyone any idea ?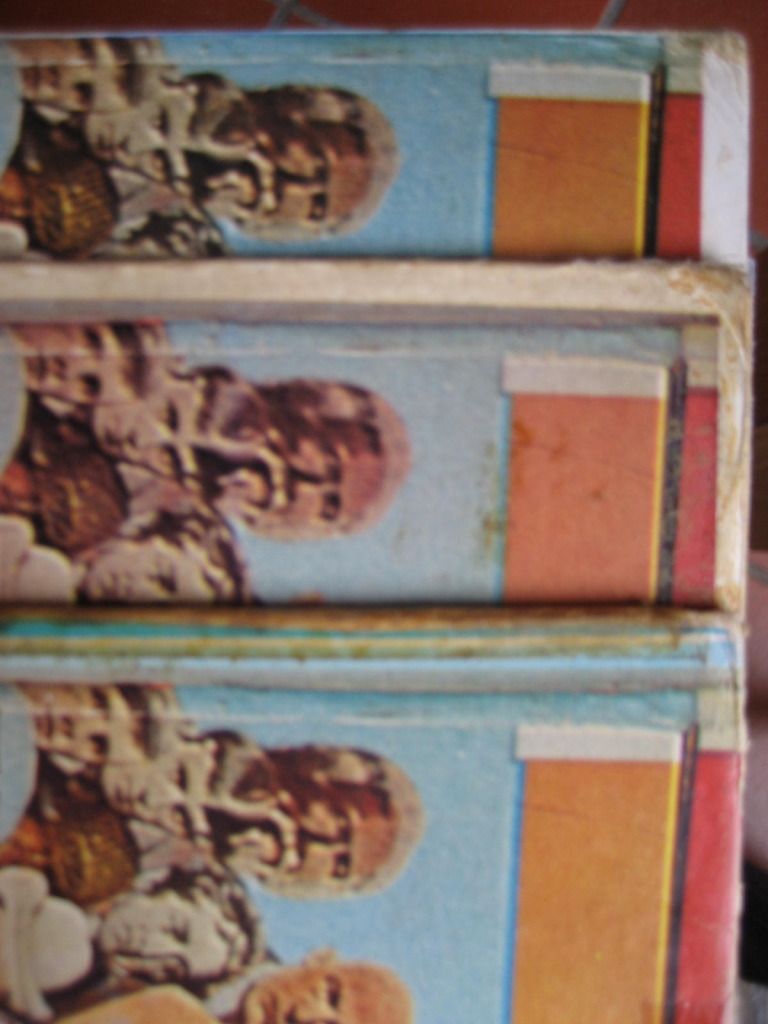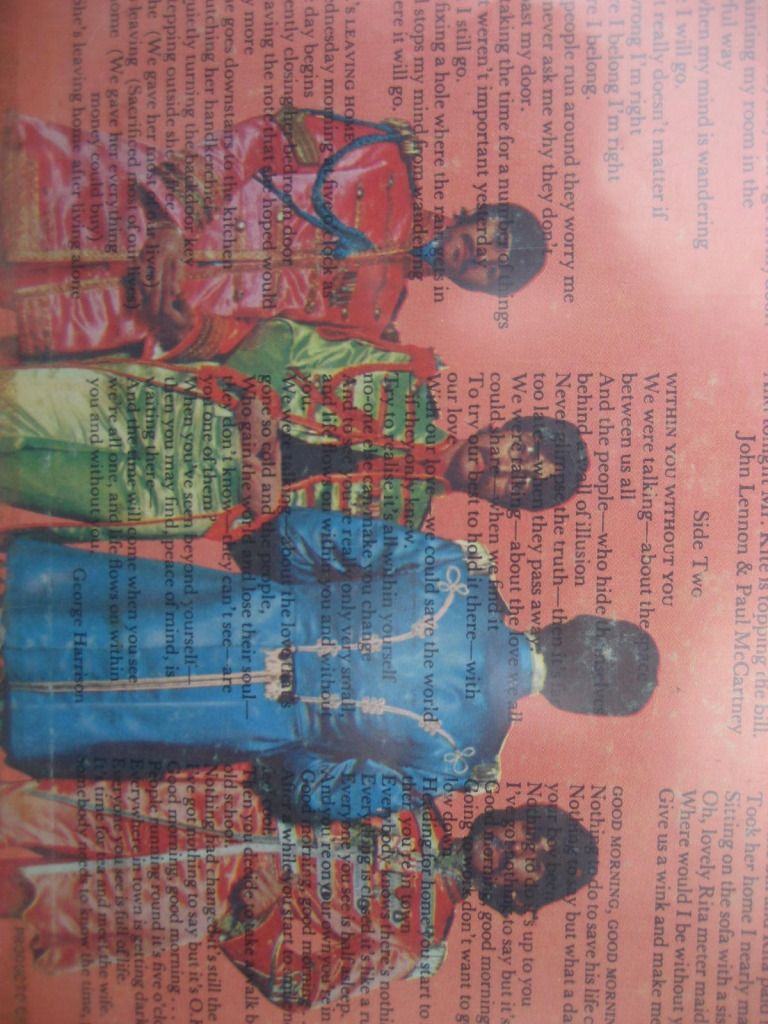 servi - June 12, 2012 07:09 PM (GMT)
Socorro, your white album is great. How did they manage to sell at least 338 copies in Nicaragua ?
Did you know there are at least 3 different Sgt Pepper pressings from Nicaragua. I only have the one I posted earlier (black label similar to your white album), but here are photos of the 2 others. In particularly strange is the "negative" Capitol B-side label....All were sold on Ebay in the last 2 years or so and all were a little expensive for me.
And
here
is another one I have from Republica Dominicana I posted some years ago. About as many inhabitants as Belgium, a country of which some pressings are also hard to find (there are 3 different Sgt. Peppers from Belgium, 2 different White albums and Abbey Roads that I have and an Oldies I have been unable to obtain thus far).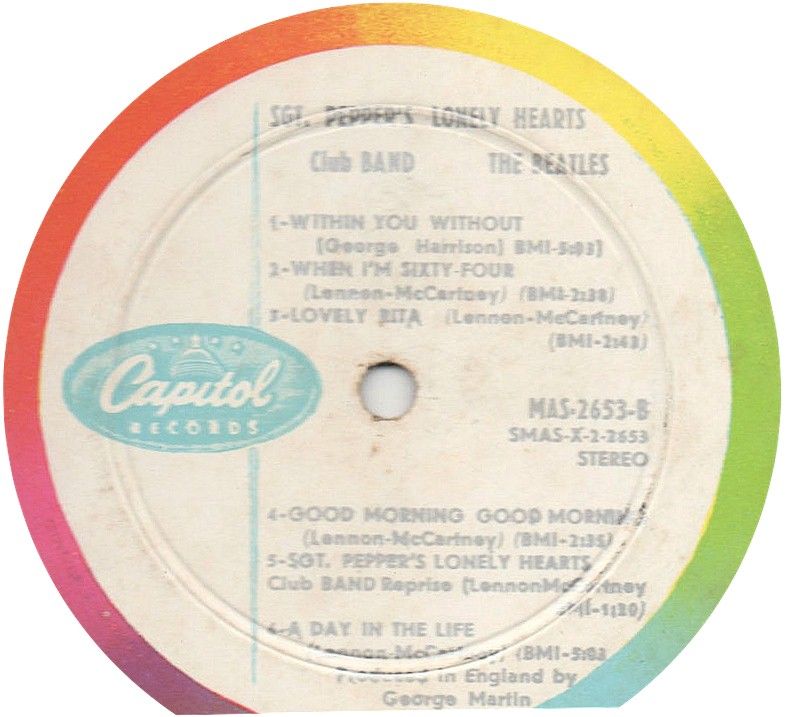 socorro - June 12, 2012 07:51 PM (GMT)
That negative image Sgt. pepper label is an oddity indeed. My first impulse was that the printers failed to ink the black parts of the label, but on closer inspection that doesn't hold up. Some parts that were inked in black on the other lable are inked in white here, but some are inked in blue. My second impulse is that it looks like the negative label was printed after it was glued to the disc, because the print doen't seem to have "taken" in the deeper parts of the pressing ring at the bottom. A closer look, though has me convinced that the lower portionof the label must have been pushed deeper and then slightly folded under itself in the pressing process.
My conclusion is that either by error or for some unfathomable reason, Capitol printed a very weird looking label that I haven't seen anywhere else. Obviously, that would have been a pretty great LP to own, but sometimes the other bidders just won't cooperate.
Now, as promised earlier, Vol. 1 of the White Album from Chile:
Front Cover
Rear Cover
Label
namralos - June 12, 2012 08:29 PM (GMT)
I have a (US) four-color separation for Sgt. Pepper, and it has the black overlay separate. They may have sent the layers separately to other countries, in case they didn't want to print the lyrics in English. The back cover image was (accidentally?) reversed anyway, so reversing it again actually makes it right!

Don't believe me? Look at the costume details -- especially the blue roping that Ringo is wearing, the blue roping that John wears, etc..

Now that I'm looking sincerely, I cannot find ANY yellow-label Argentine LP's. Well, it is certainly RARE.

To put ALL of these releases in perspective, there may have been a few thousand stereo black-and-gold PPM LP's, and they show up far more frequently than most of these. There were a few hundred of each demo single; some of these records may be as rare as the "Love Me Do" demo.

By the way, I actively search for alternate edits of songs, first appearances of songs in stereo, and other song-related anomalies. It is amazing how many of these were available outside of England before being issued domestically. Fortunately, I have most of them now!
servi - June 12, 2012 09:16 PM (GMT)
You mean that the cover was actually made up of 4 separate coloured transparents or something ? I know of UK covers where the back picture was slightly shifted ("ghost cover" they call it I have picture of it somewhere). Your remark about non-English lyrics makes sense, although there isn't any release with foreign lyrics (the Swiss had a German-language insert by Bild magazine, that's all I know of).
Concerning Argentina yellow labels, I do not know then (except for the ones with the red EMI box of course, but these are later). There is however a light orange label with a pink rim (Help!). Do you know it, otherwise I can post a photo.
You are absolutely right about the comparison with UK pressings with regards to rarity. You can by a gold PPM twice a week almost (if you have the money) but it took me 20 years to find a copy of an original Nicaraguan or Nigerian Pepper, the first and last Finnish Pepper I ever saw with PMC7022 misprint went for "only" $250 and I doubt if I will ever see one in this lifetime.
socorro - June 13, 2012 12:01 AM (GMT)
You have a Nigerian pressing of Sgt. Pepper? Time to share that one!
Once in a while the Nigerian pressings sell for bafflingly small amounts -- I guess occasionally every serious and sem-serious collector is busy getting a bikini wax at the same time. Usually, though, they sell for huge coin. I haven't been willing to take the plunge, hoping that a Nigerian LP will fall through the cracks and into my lap.
I think I saw on popsike that a Nigerian WTB once went for 31 GBP. That's a mighty nice price. You could add another zero to the end of that figure and still call it a good job.
That raises an interesting matter of taste: As a matter of pure aesthetics, some countries'pressings are so similar to the UK releases that you are paying a massive premium for sheer rarity without much in the way of uniqueness.
Leaving aside price concerns, would you have a less visual interesting LP that is super rare and you might see it for sale every 2-3 years, or would you rather have a less rare but more visually interesting LP that comes up pretty regularly? As a point of comparison, maybe a Nigerian WTB versus the Hottest Hits eskimo cover.
My instincts pull me toward the more visually interesting/unique item. I think that's a big part of why I'm so drawn to the latin american pressings. There are so many more unique covers and label styles, especially before 1966, than anywhere else. The only european countries that can make a similar claim are France and Italy (Germany and Spain to a considerably lesser extent).
That said, the highest bid I've ever placed was for the Egyptian pressing of Abbey Road. It has the 45 style label, which is interesting, but it came in a company sleeve. So I guess I feel the pull of pure rarity as well.
Enough with the blah blah blah, here are some pretty pictures:
Japan Odeon Please Please Me
Front Cover with obi
Rear Cover
Booklet Page 1
Label (hard to tell, but this is indeed on red vinyl)
Garfield - June 13, 2012 05:32 AM (GMT)
Nice pictures here, if possible please always post A and B-side labels.
Here is a late 70s (I think) pressing from Mocambique (anyone here who knows Jack Lennon?):
and a curious Pepper:
pictures will be deleted in 30 days !!!
the57thbeatle - June 13, 2012 06:36 AM (GMT)
@servi:
"3 different Sgt. Peppers from Belgium, 2 different White albums and Abbey Roads"

I know of (+ own) 2 Sgt Peppers (textured & non-textured sleeve), but please enlighten me on the 3d variant, and the variations of the WA and AR albums?
servi - June 13, 2012 07:06 AM (GMT)
QUOTE (the57thbeatle @ Jun 13 2012, 06:36 AM)
@servi:
"3 different Sgt. Peppers from Belgium, 2 different White albums and Abbey Roads"

I know of (+ own) 2 Sgt Peppers (textured & non-textured sleeve), but please enlighten me on the 3d variant, and the variations of the WA and AR albums?
There's one with SABAM on the label, one without SABAM (and whiter print) and a SABAM with a rim label, similar to the Sony pressings. Can post photos if you wish. Sleeve indeed exists in 2 variants (textured and non-textured). I finally found the textured variant some time ago. I didn't know it existed until I saw it while admiring your collection many years ago. So there are 3 label and 2 sleeve variants. The one without SABAM I posted earlier
here
together with a Nigerian Pepper.
The WA varies with regard to the "An Apple Record" being above "An EMI recording" (or vice versa) if I remember correctly and also with regard song title lay-out. It's in the book by Renaat Develtere and I have both WA copies so I will check at home if you would like to know in more detail. Same for AR and red/blue albums. Do you have Belgian oldies ? It's the hardest to find IMO and the last one I need.
And do you remember we once discussed a Surinam Beatles pressing ? Record Palace in Amsterdam had it about 15 years ago but I can't find any info on it. Only thing I remember it had STEMRA on the label. May be a pirate release.
@Garfield: WOW !!!!!!!!! Would you like to swap that Pepper ? :P
socorro - June 13, 2012 07:53 AM (GMT)
That Armed Forces Radio Sgt.Pepper is quite something. It's not impossible to find AFR discs, but they generally are recordings of a specific day's broadcast, and include a hodgepodge of varioous artists. Finding a complete album on an AFR label is quite the rarity.
Garfield - June 13, 2012 07:57 AM (GMT)
QUOTE (servi @ Jun 13 2012, 07:06 AM)
@Garfield: WOW !!!!!!!!! Would you like to swap that Pepper ? :P

I only have a picture of it, as you know I'm more into Apple.
the57thbeatle - June 13, 2012 12:07 PM (GMT)
QUOTE
Do you have Belgian oldies ? It's the hardest to find IMO and the last one I need.
And do you remember we once discussed a Surinam Beatles pressing ? Record Palace in Amsterdam had it about 15 years ago but I can't find any info on it. Only thing I remember it had STEMRA on the label. May be a pirate release.


Thanks for the info, I have Renaat's book, will check if I need any scans, thanks in advance.
No, I don't have the Belgian Oldies, I am checking every French LSO Oldies sleeve I see (it comes in a French cover), but so far no luck.

I do have the Surinam LP myself, Record Palace sold their copy for 250 guilders at the time. I may be able to get another copy from a collector friend, but it won't be cheap (think in the region of 75-100). Drop me a PM if you're interested.
servi - June 13, 2012 12:16 PM (GMT)
Yes, let me know if you need WA or SPLHCB scans. The oldies is a tough one to find.
On which label is the Surinam release ? Do you think this is an EMI authorized release ?
Garfield - June 13, 2012 08:49 PM (GMT)
Here is another goodie:
billstiggins - June 13, 2012 10:25 PM (GMT)
Though I have had no interest in collecting overseas issues (and daren't start, because it would cripple me financially), I have to say that this thread is fascinating. Some fantastic examples - and I love the Jack Lennon reference :D

I presume that the second timings on the AFN Pepper LP are the separation between (unbanded?) tracks. Any idea why?
socorro - June 14, 2012 01:53 AM (GMT)
Holy crap, I really want that DR Yellow Sub. I'm a sucker for the monotone green Apple labels. They pressed them that way in Uruguay too (plus a couple other countries I can't remember with a couple of japanese beers in me).
the57thbeatle - June 14, 2012 06:22 AM (GMT)
QUOTE
On which label is the Surinam release ? Do you think this is an EMI authorized release ?

It is on Apple. Will post scans soon....

I *don't* think it's an authorized release............... :ph43r:
servi - June 14, 2012 06:53 AM (GMT)
Amazing that the Dom Republic used 3 labels (Capitol, Odeon, Apple) and that YS is on Apple but
Let it be
on Odeon. Strange. And why do so many countries from that continent have a deep groove label. Is it due to older pressing machines ?
Garfield - June 14, 2012 07:33 AM (GMT)
QUOTE (servi @ Jun 14 2012, 06:53 AM)
Amazing that the Dom Republic used 3 labels (Capitol, Odeon, Apple) and that YS is on Apple but Let it be on Odeon. Strange. And why do so many countries from that continent have a deep groove label. Is it due to older pressing machines ?

The DR YS is clearly a later (mid 70s I think) issue, note the Sapcor 39 number